Quilt No.751PHM - Powerhouse Museum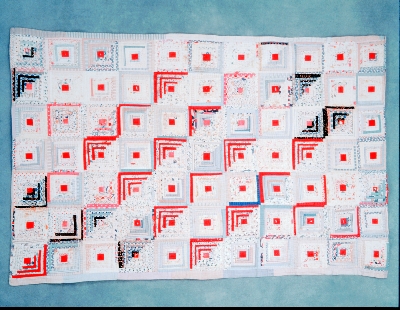 Description:
Reversible cot quilt, hand pieced, in the log cabin pattern; the blocks measure 150mm square. The patches have been cut from plain and patterned dress, pyjama and men's shirt fabrics. Strong diagonals were created in the overall design through using light and dark colours, often a strong red, to divide the log cabin blocks in half diagonally. The back is made from rectangles of striped men's shirt fabrics in pastel blues, pinks and browns with a large 'flowe' in each corner, each pieced from six hexagon patches around a central seventh hexagon. There is no padding.
[PHM] 1720 x 1150mm
History:
The maker was Mrs. Lawrence. It was made in NSW about 1910. Bert Lawrence, Mrs Lawrence's son gave the quilt to the Powerhouse Museum, Sydney in 1973. The quilt is used for research and exhibition purposes only.
Story:
"The quilt was brought to the museum in about 1973 by Mrs. Bert Lawrence, as her husband was not well. According to her, Bert remembered being sent to the tailor's shop as a child of five or six to buy samples of cotton fabric for his mother's patchwork. His father did contract work, fencing etc, around NSW and Queensland."
[Powerhouse Museum]
Related Quilts:

Patchwork quilt made from rectangles of mostly woollen fabrics sewn in strips and then stitched together. Fabrics left over from dressmaking projects. Machine stitched. Colours mainly green, purple, blue, pink, pastels, in plain, checks and spots. No padding or quilting. Lining is an old bedspread.
2200 x 1440mm

Single bed quilt made up entirely of hexagons in 'Granny's Flower Garden' pattern. The rosettes are made up of 8 hexagons and a central one. Native flower prints, including wattle, on a white background. Plain hexagons in white, yellow and blue form a scalloped border. Hexagons are hand stitched and the 2 layers are quilted in running stitch. The backing is a pieced sheet.
2400 x 1500mm

Cotton quilt, machine sewn and hand quilted. Pattern similar to Double Irish Chain. The background is white and the small squares mainly patterned in pinks, blues, lilacs and greens. The backing is plain white cotton and the padding, which is lumpy, could be some type of cotton.
2057 x 1220mm

The strip quilt is handsewn and quilted. Quilt top has 13 panels or strips of 3 different cotton lawn floral prints. Some fabrics are now wearing. Backing is of plain white cotton. The padding is wool. Quilting features a triple row cable design with flower motifs.
2100 x 1800mm

150 x 210mm pieces of bound suiting samples overlapped and machined together then herringboned with gold/yellow thread. Each piece has an embroidered motif, using single thread, mainly non Australian birds and animals. '1903' is embroidered on a centre piece. It is hand quilted. The backing is a black floral print. There is no padding.
1800 x 1940mm

The quilt on longer exists, just the label, but the quilt was squares of flannelette shirt material, velvets and woollen pieces. The backing was calico. The label was sewn to the backing and it reads: 'Red Cross Killarney Manitoba'. It is embroidered in red and is on a white piece of sheeting.