Quilt No.751PHM - Powerhouse Museum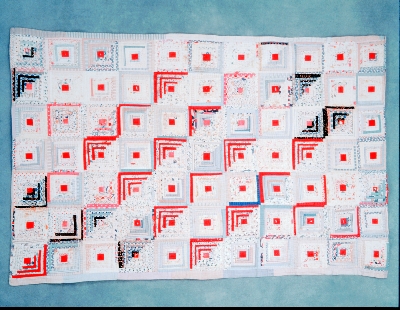 Description:
Reversible cot quilt, hand pieced, in the log cabin pattern; the blocks measure 150mm square. The patches have been cut from plain and patterned dress, pyjama and men's shirt fabrics. Strong diagonals were created in the overall design through using light and dark colours, often a strong red, to divide the log cabin blocks in half diagonally. The back is made from rectangles of striped men's shirt fabrics in pastel blues, pinks and browns with a large 'flowe' in each corner, each pieced from six hexagon patches around a central seventh hexagon. There is no padding.
[PHM] 1720 x 1150mm
History:
The maker was Mrs. Lawrence. It was made in NSW about 1910. Bert Lawrence, Mrs Lawrence's son gave the quilt to the Powerhouse Museum, Sydney in 1973. The quilt is used for research and exhibition purposes only.
Story:
"The quilt was brought to the museum in about 1973 by Mrs. Bert Lawrence, as her husband was not well. According to her, Bert remembered being sent to the tailor's shop as a child of five or six to buy samples of cotton fabric for his mother's patchwork. His father did contract work, fencing etc, around NSW and Queensland."
[Powerhouse Museum]
Related Quilts:

Machine pieced cotton quilt, in random design of geometric pieces. Materials used are cotton sheeting, dress fabrics, broderie anglaise, and seersucker. There is no padding, and backing is white curtain lining.
1540 x 1150 mm.

Patchwork quilt made from diamond patches in a variety of cotton materials set in a 'tumbling block' pattern. Patterns include geometrics, stripes, a 'Kate Greenway' print and colours are largely soft pastels, dark browns, with some reds and blues. The quilt has been cut down and a later border added. There is no padding and the backing is cream cotton.
2279 x 2000mm

Rectangular quilt of print and plain
cottons pieced in squares and rectangles within 2 frames, the inner border or frame of blue/green check material, then 2 rows of squares and rectangles, the outer frame of a grey and red geometric pattern and 2 rows of squares or rectangles. Backing of plain fabric. Machine stitched on a treadle machine.

Pieces of heavy woollen material have been strip pieced and then joined. The joined pieces have then been folded over and restitched along the sides to make a double sided quilt. It is very heavy.
1830 x 1400mm

Patchwork quilt made of approx. 730 Suffolk Puffs, using mainly cotton materials in florals and plains. Each puff is 45mm diameter. The quilt centre has a square of 16 pink puffs outlined with a single row of blue puffs. Each corner of the quilt has a square of 9 puffs in a single colour. No padding. Quilt is edged and backed with a red and white tartan cotton.

Crazy patchwork quilt made from silk and cotton fabrics, in patterns and plains, in bright colours. Patches are arranged around a central diamond shaped patch in yellow which is bordered with light blue. All seams are covered with featherstitch and herringbone stitch. Patches were stitched onto a calico backing. A recent calico backing ahs been added and dark blue binding attached to the edge. No padding.
1555 x 910mm