Quilt No.812QVM - Queen Victoria Museum and Art Gallery
Owner:
Queen Victoria Museum and Art Gallery
Description:
Quilt has a centre panel of white velvet roses and green leaves with embroidered spider webs, on red velvet. Two side panels are in crazy patchwork in plain and patterned silks and velvets. All patches are edged with feather, herringbone or blanket stitch. Many patches are embroidered, including 'Minnie', 'Good Luck', birds, flowers, anchor, boat, fish, shell, spider web, crown,, 2 crossed flags, tennis racquets, Australian motifs including wattle. The centre panel has a row of ruched olive green ribbon each side and the whole quilt has a border of dark blue velvet. The padding is cotton...
History:
The quilt was made by Minnie Lucy Violet McLoughlin in Tasmania about 1895. It was made for her trousseau and embroidery on patches includes hearts, linked rings, blue birds, initials and sea related motifs. It is believed that Minnie was jilted and in 1915 she gave the quilt to Elsie Whelan on her marriage to Charles Brown. Elsie was the daughter of Minnie's friend Annie Whelan. Elsie and Charles gave the quilt to their son Terence in 1942 on the occasion of his marriage to Beryl.
The Queen Victoria Museum and Art Gallery acquired Minnie's quilt in 1999 with the assistance of the Tasmanian Quilters' Guild and the Launceston Patchworkers and Quilters Inc.
Story:
Minnie was born 28 August 1878 in Hobart to Joseph and Mary (born Woods) McLoughlin, their 6th child.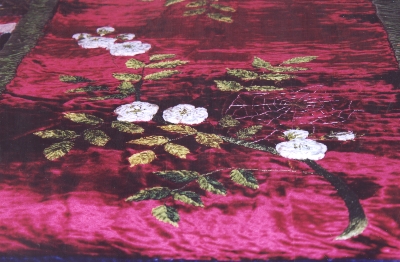 Related Quilts:

Single bed quilt hand pieced from silk hexagons using the English method. The border, backing and central rosette of hexagons are black. All other hexagons are a mixture of plain colours, stripes and florals. They are randomly placed. It is quilted in a diamond pattern. The padding is a thin cotton woven material.
1550 x 1330mm

"The quilt consists of 12 blocks of crazy patchwork with an embroidered border. The quilt is made of 167 different fabrics; most of these are silk. These velvets, printed silks and satins are beautifully embroidered with flowers, household items and Kate Greenway images of children at play. Many of the motifs have a strong influence from the Aesthetic Movement. The edge of the quilt carries a border in maroon silk decorated with tendrils and daisies in very fine embroidery.
The patches are joined with hand sewing and embroidery, however the 12 panels are joined with machine stitching (chainstitch machine stitching). The blue silk lining was hand sewn into position with silk thread." [NGA]
"The quilt does consist of three layers but the central layer is not padding. The crazy patch pieces were sewn together and this was lined with white cotton fabric prior to the embroidery at the edges of the 12 panels being placed. This in turn was lined with a fine blue silk." [NGA] 1810 x 1460 mm

Cotton quilt in 'Pyramid Charm' pattern. Made in the USA and thought to have come from Louisiana. Hand pieced and hand quilted with the quilting following the triangular shapes. The quilting is quite coarse. The backing is black printed material and there is cotton padding.
1931 x 1855mm

The quilt on longer exists, just the label, but the quilt was squares of flannelette shirt material, velvets and woollen pieces. The backing was calico. The label was sewn to the backing and it reads: 'Red Cross Killarney Manitoba'. It is embroidered in red and is on a white piece of sheeting.

Rectangular cot quilt of green floral cretonne with pleated frill. Machine made. The backing is the same material. It is tied not quilted. The padding is old woollen jumpers.
1050 x 610mm

"English patchwork pieces. 1110mm x 1500mm. Hand pieced by at least two people. Made from scraps, cut down clothing and sheeting. Backing made from shirtings, dress fabrics, furnishing fabric and ticking. No synthetics. Machine quilted. Condition, fragile�.." [Dubbo Museum]