Quilt No.839AG - Annette Gero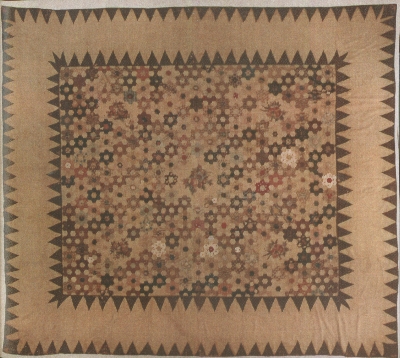 Description:
This quilt is of hand pieced hexagons randomly placed and stitched on to a linen backing. They are mainly dress fabrics and chintz with some hexagon flowers in the centre and corners in broderie perse. There is no padding.
2600 x 2600mm
History:
The quilt is believed to be English c. 1830 and was brought here pre 1970. It is now in the collection of Annette Gero.
Story:
"A very early quilt, typical of the English medallion quilts made in the first quarter of the 19th century. The flower motifs in the centre of the quilt and the four corners are block printed fabric in madder colours and appliqued onto the quilts with broderie perse. Many of these floral fabrics were printed in England around 1815 specifically for use in quilts or coverlets." [Annette Gero]
Related Quilts:

9 large blocks of crazy patchwork in silks and velvets. The blocks are divided by strips of deep ruby coloured silk. There is a wide ruby border with peaks to which is attached cream lace. The backing is beige silk. The main blocks are outlined with feather stitch in gold thread and many individual patches are outlined in fancy stitches and have embroidered motifs some of which are Australian eg centre patch has Sturt's Desert Pea flowers, parrots, wattle. There are also English flowers, Japanese motifs, flags, domestic objects and Marianne's initials. Embroidery is in a variety of threads including chenille.
2250 x 2180mm

Patchwork quilt with diagonal arrangement. All cotton including cotton padding. Hand sewn and quilted.
2109 x 1702mm

Patchwork quilt made from hexagon patches in satin and nylon, the nylon overlaid on satin. Fabrics are plain, in a mixture of dark and light colours. No padding. Backing is of pink satin with pink satin ribbon covering the joining seams. Hand sewn with some machine stitching. Feather stitching along the edge. There is no padding.
2211 x 1752mm

Cotton quilt of pieced hexagons and some diamonds made for a baby's basket. Colours are mainly blue and pink and two 'Punch and Judy's' are appliqued in the centre. There is no padding and the backing is a cotton floral in blues and greens.
760 x 660mm

Patchwork knee rug made from maroon wool cut up from a garment into different sized rectangles. Pieced by hand, then all edges crocheted with coloured wool thread. The top was then machined and quilted to a pale blue wool backing. No padding.
1080 x 780mm

The quilt on longer exists, just the label, but the quilt was squares of flannelette shirt material, velvets and woollen pieces. The backing was calico. The label was sewn to the backing and it reads: 'Red Cross Killarney Manitoba'. It is embroidered in red and is on a white piece of sheeting.