Quilt No.839AG - Annette Gero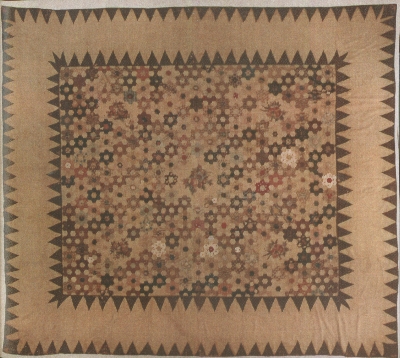 Description:
This quilt is of hand pieced hexagons randomly placed and stitched on to a linen backing. They are mainly dress fabrics and chintz with some hexagon flowers in the centre and corners in broderie perse. There is no padding.
2600 x 2600mm
History:
The quilt is believed to be English c. 1830 and was brought here pre 1970. It is now in the collection of Annette Gero.
Story:
"A very early quilt, typical of the English medallion quilts made in the first quarter of the 19th century. The flower motifs in the centre of the quilt and the four corners are block printed fabric in madder colours and appliqued onto the quilts with broderie perse. Many of these floral fabrics were printed in England around 1815 specifically for use in quilts or coverlets." [Annette Gero]
Related Quilts:

Hand pieced log cabin quilt in silks, satins and velvets. There is a silk backing machined on, possiby a later addition. The quilt has over 5000 pieced.
1820 x 1680mm

The top is mainly squares of flannel machined together with patches of dress materials stitched randomly on top. There is no padding and the backing is calico. The top and backing are held together by a binding only. It is one of a pair.
2010 x 1680mm

Quilt of hand stitched cotton hexagon patches, the hexagons are in groups of 7 to form flowers, with white or cream 'paths'. The quilt centre has 19 flowers grouped within a single hexagon border of brown and red patches. In each corner of the quilt there are 6 flowers grouped around a larger flower within a single border of darker print hexagon patches. Backing is cream cotton, machine stitched to the top. There is no padding or quilting. Some fabric patches have deteriorated.

Patchwork quilt has a centre of a square within a square, with rows of scraps added around it. The scraps are mainly cotton shirting fabrics and are cut in different sizes and shapes. The two long sides have a narrow red edging folded from the back. The other two sides have been 'bagged'. Filling is an unusual weave thought to be wool. Backing is a pink, red and beige floral cotton.
2080 x 1650mm

Hand pieced crazy quilt in a variety of plain coloured velvets. All seams are over embroidered in a variety of stitches. There is no padding and the backing is heavy black cotton. 1900 x 1630mm.

Irregularly patched from a variety of cotton dress prints, checks, plains and mattress ticking. 1920s and 30s fabrics. Both top and back are similar. Hessian padding. Originally two single quilts, now stitched together.
1850 x 1720mm