Quilt No.973NGA - National Gallery of Australia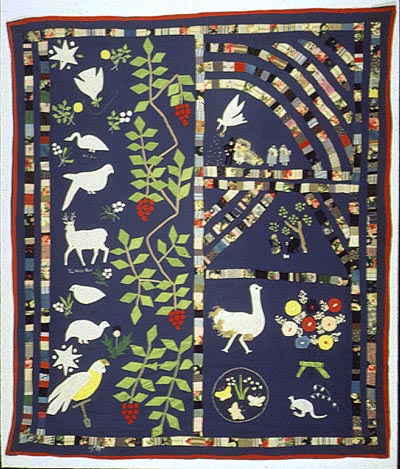 Owner:
National Gallery of Australia
Description:
" This coverlet is composed of two pieces of dark blue cheese cloth joined with a row of running stitches down the centre of the coverlet (the seam faces the front face of the coverlet but is hidden beneath a row of appliqué).
The coverlet is decorated with rows of pieced work surrounding appliquéd and embroidered scenes. A panel down the LHS of the quilt and a smaller panel lower RHS depict animals and floral images. In the centre RHS an elderly couple sit beneath a tree. In the upper left a bride and groom accompanied by three flower girls are showered with petals...
History:
The quilt was made by Mary Jane Hannaford about 1922 at Blanford, near Murrurundi, New South Wales.
"There are seven known quilts initialled 'M.J.H.' five of which are owned by the National Gallery of Australia. Mary Jane's great granddaughter, Miss Joan Swanson, New South Wales donated this quilt to the National Gallery of Australia in 1997." [NGA]
Story:
"Mary Jane Hannaford was born in Devonshire, England in 1840. She came to Australia on board the 'London', arriving in Sydney in March 1842. The family moved to Tamworth after the Australian Agricultural Company contracted her Father as shepherd. Her father died in 1852, when Mary was 12. Her Mother remarried 2 years later and they moved to Blanford near Murrurundi, New South Wales. Mary Jane lived with her parents until they died and continued to live with her brother on the farm 'Balmoral'. She never married, but had a daughter, Emily Agnes Hannaford who married George Cady in 1887. Mary Jane died in Blanford in 1930." [NGA]
Related Quilts:

Wholecloth pram quilt with a top of pink cotton sateen, and the reverse is a more finely woven, ivory, fabric. All over quilting design as main feature, with stylised hearts, leaves and cross hatching. The padding is cotton batting. 870 x 660 mm.

Hand stitched, cotton, appliquéd, quilt in a flower pattern on a plain background. Colours are shades of green, apricot and browns. This quilt was known as a 'Bride's Quilt'. Padding is thought to be layers of white fabric raised almost like a wadding. The backing is cotton material. 2470 x 2020 mm.

Wholecloth quilt with one side cream wool and one side faded red wool. Red wool is joined with 3 seams by loom length; red appears to be cochineal dyed. Cream wool side appears to have been made from a hand woven blanket with blue selvidge on 2 sides. It is hand quilted in red wool thread; Welsh patterns including clamshell, Welsh pear, snail or spiral. Centre frame has 2 cable borders and the centre corners have fans. The outer quilted border has alternate 4 petal flowers, clamshell, and spirals.
It is padded with hand carded wool.
1950 x 1935mm

Wholecloth quilt with both sides of floral cotton. The padding is thought to be hessian bags.
2060 x 1300mm

Large double sided quilt of rectangles and squares of men's suitings, patterned and plain on both sides. The top has a central motif of a circle of three segmented rings radiating from a single hexagon. The outer ring is all tailors' samples and the inner rings are a variety of materials. There is some featherstitching in red. The quilt is sparsley machine quilted.

Patchwork quilt of rectangular wool and cotton tailors' samples, in browns, greys, navy, black and beige, in plains and patterned weaves. Padding is a woollen blanket, and the backing is a patterned cotton.
1956 x 1702mm