Quilt No.1001MT - Muriel Thompson
Description:
Hexagon quilt in pattern known as 'Grandmother's flower garden'. Hexagons of prints and plains with yellow centre to each flower, and plain pink outlines. It is hand pieced and hand quilted. Padding is cotton, backing is cream cotton. 2200 x 2000 mm.
History:
Quilt was bought from 'The Quilt Cupboard' at a craft show, in 2000. Quilt may be from Pennsylvania.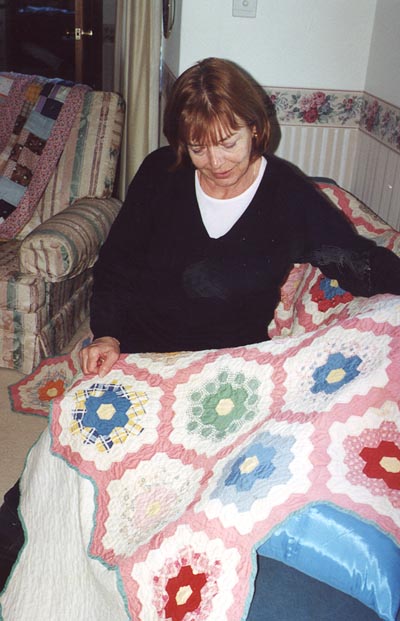 Related Quilts:

Cotton quilt, machine sewn and hand quilted. Pattern similar to Double Irish Chain. The background is white and the small squares mainly patterned in pinks, blues, lilacs and greens. The backing is plain white cotton and the padding, which is lumpy, could be some type of cotton.
2057 x 1220mm

Quilt made with a rectangular centre panel of cotton fabric printed with red poppies and black flowers in a japanese style. The panel is surrounded by a wide black satin border. The backing is of black cotton, covering a previous backing of green floral cotton fabric. The padding is feathers.
1700 x 1370mm

Crazy patchwork quilt in silks and velvets. Centre circle of embroidered flowers and outer border of diamonds in tunbling block pattern. Most pieces have embroidered flowers and all joins are embroidered in fancy stitches. The owner's mother had a pink silk quilted backing and a thick edge cord added to the quilt by Rocke's of Collins street Melbourne c.1960
1620 x 1595mm
Cotton patchwork quilt in an all over pattern of diamonds in a wide variety of patterned and plain materials. Many seams are oversewn in feather stitch which goes through to the backing of calico.
1625 x 925mm

Pieced patchwork quilt of hexagons in cottons, chintzes and linen. The centre is pieced in 6 point hexagon stars, then radiating out are large hexagons alternating with tumbling blocks, then 6 piece hexagon stars and 4 piece hexagon diamonds. Some pieces have Egyptian patterns dating from 1800 - 1805. The backing is cream linen.
2450 x 2200mm

Patchwork quilt in Log Cabin pattern, arranged in 'furrows', and made from cottons, wool and suiting fabrics. Centres of blocks are pastel or dark; dark colours are black, brown, purple blue and red. Pastel side of blocks includes a bright pink. Quilt backing is pieced, with a centre rectangle of cotton surrounded by 5 borders of plain and alternate rectangular pieced strips, in wool and suiting fabrics. Colours are black, dark blue, brown, green, grey and pastels. Inner lining is of cotton pieces, to which the Log Cabin blocks have been machined.
1620 x 1360mm