Quilt No.1006JC - Josephine Curtis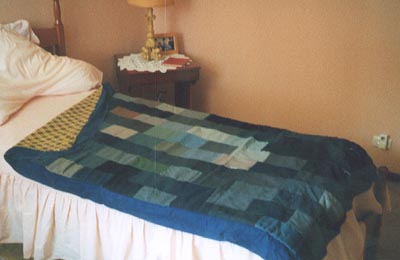 Description:
Taylor's sample quilt made from men's suit swatches, mainly greys and blues. Edging is 6cms wide, of blue flannelette. Padding is an old grey blanket, and the backing is of printed pattern corduroy. 1680 x 920 mm.
History:
Quilt was made by Mrs Valencia Venn in Glenbrook, in 1960. It was then owned by Mrs M Rowe (born Curtis), and is now owned by Mrs Josephine Curtis, daughter of the maker.
Story:
"The quilt shown in the enclosed photograph was originally made by my mother Mrs Valencia Venn (born 1892 died 1985) from the material pieces of men's suit swatches in 1960. The swatches came from her nephew's menswear shop which was situated in Liverpool NSW.
Mrs Venn was handicrafts officer of the Glenbrook branch of the CWA for many years.
Mrs Venn was a busy seamstress whose main work was making ballet tutu's for the Sydney Royal Academy of Dancing, and also stage costumes. She also started the CWA Handcraft classes in Glenbrook NSW.
Apart from this quilt two others were made for her grandchildren. All of these quilts were well used over the ensuing years." [Josephine Curtis]
The swatches came from Ingall's Men's Centre, 51 Scott Street, Liverpool NSW.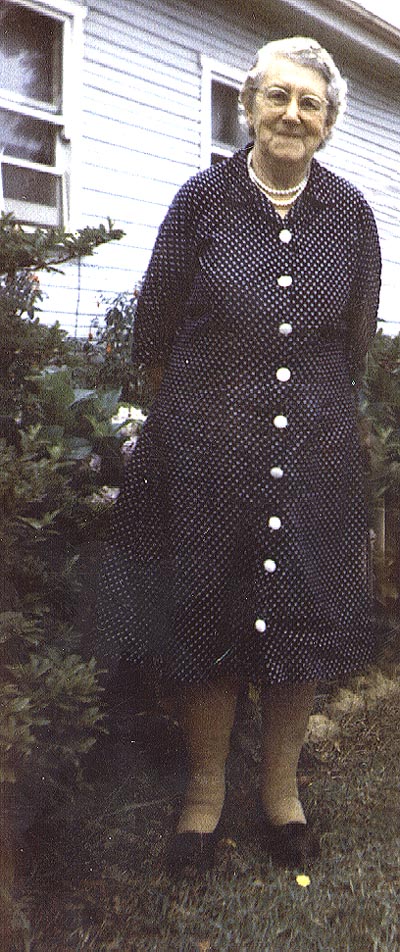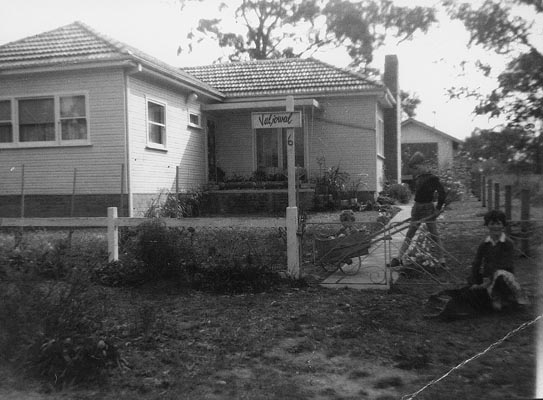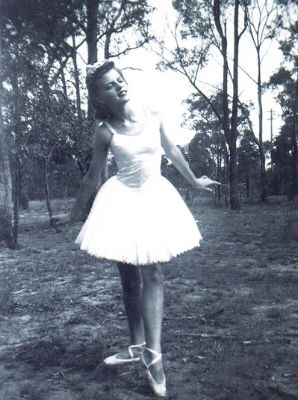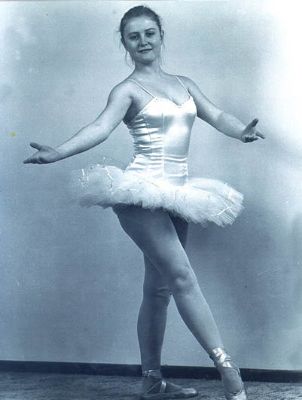 Related Quilts:

Reused parts of hand knitted woollen jumpers patched together. Wide crocheted edge from wool unravelled from jumpers retrieved from the tip.
1905 x 1525mm

Quilt has a centre panel of white velvet roses and green leaves with embroidered spider webs, on red velvet. Two side panels are in crazy patchwork in plain and patterned silks and velvets. All patches are edged with feather, herringbone or blanket stitch. Many patches are embroidered, including 'Minnie', 'Good Luck', birds, flowers, anchor, boat, fish, shell, spider web, crown,, 2 crossed flags, tennis racquets, Australian motifs including wattle. The centre panel has a row of ruched olive green ribbon each side and the whole quilt has a border of dark blue velvet. The padding is cotton wadding and the backing is cream cotton printed with red and pink chrysanthemums and green leaves.
2113 x 1995mm

Quilt made from woollen dressmaking scraps, sewn to an army demob issue blanket, grey with blue stripes. Patches are feather stitched in red broder cotton thread. Quilt is edged with red cotton material zig zagged into place. Colours are pink, blue, brown, black and grey, in plain cloth, weaves and checks.
1462 x 966mm

4 Pieces of a patchwork quilt which was formerly a whole quilt. It is pieced in cottons in blues reds and browns in many prints. There are whole circles and pieced circles against a plain cream calico background. It is wool lined and is quilted. There are the initials 'A.B.' and '1828' on a central piece. The 4 pieces are various sizes.

Patchwork Quilt, all cotton including filling. Pattern is "squares and diamonds". Quilt is faded but blue is probably the predominant colour. Hand stitched and hand quilted.
1624 x 1194mm

Patchwork quilt with alternate squares of green and fawn cotton headcloth. Various Australian wild flowers are embroidered in coloured threads in the green squares. In the fawn squares there is a stylised flower and leaf pattern outlined in embroidery. The border, front and back is green headcloth. The backing is printed cotton with a floral design. There is some padding.
1610 x 1610mm