Quilt No.617PWH - The Pioneer Women's Hut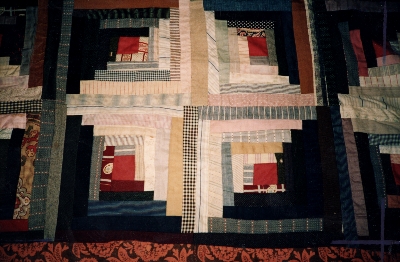 Description:
Machine constructed log cabin quilt using a wide variety of strips of used clothing including cottons, men's suitings and wools. Each square is about 250mm and arranged in the 'light and dark of the fire' variation of log cabin. There is no padding. The backing is brown twill with an orange pattern and is probably a replacement backing.
2180 x 1710mm
History:
The quilt was made by Julia Jeffries at Ournie on the upper Murray c.1900. It was handed down in the family by maternal descent and donated to The Pioneer Women's Hut by Bessie Hillis of Tallangatta NSW. It is displayed in the museum occasionally.
Story:
Julia Jeffries (1846-1919) lived with her husband Jabez at Ournie NSW. They had 11 children.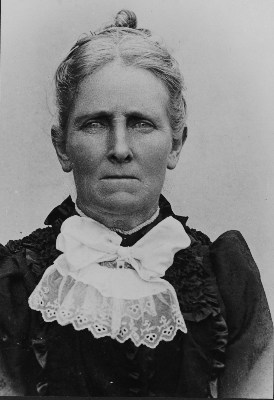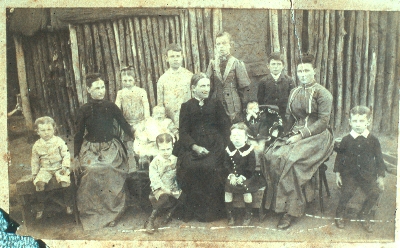 Related Quilts:

Patchwork quilt made from a variety of printed cottons over 70 prints, using shirting and dress fabrics, fabrics also from pyjamas, curtains, aprons, tablecloths. The centre medallion is a square within a square with white borders, the inner frame made of sawtooth triangles. This is surrounded by pieced triangles, square within a square and crosses. Outer frame of sawtooth triangles, and outer border pieced of squares and triangles. Colours are pinks, blues, burgundy and pastels, with floral, stripe and check prints. Lining of cotton. Backed with a printed cotton. Quilt is bound on all edges.
2430 x 2250mm

Red and white cross stitch quilt. Central white panel with red cross stitch embroidery featuring flowers and leaves. Red panels as borders with white embroidery, also flowers and leaves. Machine pieced. Hand quilted in an espalier pattern. There is a fine padding and the backing is homespun. 2200 x 1970mm

Pieced repeat block, in what the owner calls 'Our Village Green' pattern. Wide variety of patterned and plain materials. Finely quilted. Padding is cotton and the backing is white calico. 2180 x 1890 mm.

This quilt consists of rows of pieced blocks approximately 280mm square sewn directly on to a foundation square. The design is really a version of 'log cabin' set on the diagonal. The backing squares are made from flour bags including a number stamped in blue ink "The Defiance Milling Company��..Toowoomba NET 3 lbs". Another is stamped in green ink "Parsons Rolled Oats". Two short sides and one long side of the quilt are bound in apricot coloured cotton.
1960 x 1700mm

Cotton quilt made in the USA. The pattern is 'Nine Patch'. The quilt is machine pieced and hand quilted. The backing is cotton material possibly shirting. The padding is cotton.
1702 x 1702mm

Double sided utility quilt made from machine pieced squares of tailors' samples and men's and boy's suitings. The padding is 5 or 6 layers of pieced used clothing including darned, threadbare socks, part jumpers, blanket pieces etc.
2090 x 1340mm