Quilt No.1012LB - Lora Busellato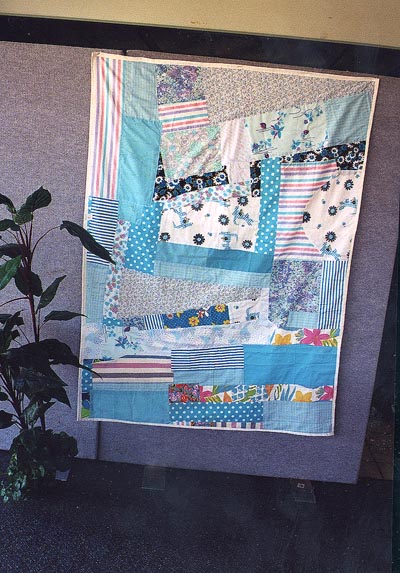 Description:
Machine pieced cotton quilt, in random design of geometric pieces. Materials used are cotton sheeting, dress fabrics, broderie anglaise, and seersucker. There is no padding, and backing is white curtain lining.
1540 x 1150 mm.
History:
Purchased by the present owner for $8 at an op-shop, July 2001. It is not used.
Related Quilts:

The quilt is a repeat block in the Ohio Star pattern in turkey red and cream. Quilted in squares in the cream block and diagonal lines in the star block. The fabric border is disintegrating. The backing is cream calico and the padding is cotton, badly degraded. 1940 x 1760mm.

Quilt top in postage stamp pattern typical of military quilts. 5 x 5 blocks each 280 x 280mm. Colours are predominantly red, black and cream. Thought to have been made using uniform material from the Crimean war
1350 x 1350mm

Patchwork quilt of hexagon patches (3.5cm sides approx), handsewn, in cotton fabrics in sprig prints, stripes, checks, florals and plains. Colours are pre-aniline dyes, in lavender, green, red, beige and purple. Centre of quilt is pastel colours with a central patch embroidered in red: 'Elsey Rowbotham her work May 1 1869'. Quilt has a wide border of squares and triangles.Padding is thin cotton. Backing is off white calico. Quilted in parallel lines.
2693 x 2490mm

Hand pieced log cabin quilt in silks, satins and velvets. There is a silk backing machined on, possiby a later addition. The quilt has over 5000 pieced.
1820 x 1680mm

Patchwork quilt in the Log Cabin pattern, each square 14cm x 14cm, made of used cotton fabrics with a fine wool fabric as the centre square of each. Colours are mainly reds, blues, greens and maroon, and pastels, in prints and plains. Quilt has a wide border of dark blue cotton with mitred corners. The padding is black and white mattress ticking, and the backing is the same dark blue cotton as the border. Machine stitched.
1770 x 1170mm

Quilt of hand stitched cotton hexagon patches, the hexagons are in groups of 7 to form flowers, with white or cream 'paths'. The quilt centre has 19 flowers grouped within a single hexagon border of brown and red patches. In each corner of the quilt there are 6 flowers grouped around a larger flower within a single border of darker print hexagon patches. Backing is cream cotton, machine stitched to the top. There is no padding or quilting. Some fabric patches have deteriorated.