Quilt No.116NTQ - National Trust of Australia (QLD)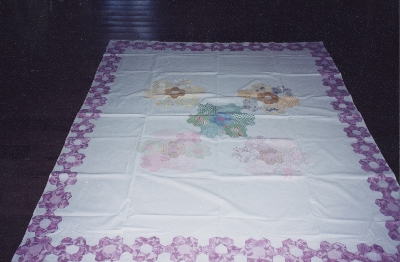 Description:
Hexagons appliqued onto sheeting. 5 groups of 6 hexagons in centre of sheet and continuous row of hexagon rosettes around border.
2261mm x 1664mm
Related Quilts:

Patchwork quilt with repeat blocks of Log Cabin pattern in cottons. One side of the square has blue fabrics, the other side has pink. Blocks are separated by a floral and a blue strip. The quilt is finished with a dark blue border on 2 sides, and a light and dark blue border on the other 2 sides. Dark blue binding around edge. Hand quilted with a cable pattern on the borders. Padding is probably synthetic. The quilt is backed.

One side of this quilt is large pieces of check and striped material surrounding a small patterned supper cloth with a border of scrap pieces. The other side is small, floral, check, spotted, striped and plain cotton pieces surrounding a tablecloth. It is machine sewn and is not quilted. The padding is an old woollen blanket.
1825 x 1625mm

Patchwork quilt made of hexagons in printed cottons, colours predominantly red, blue pink, brown and yellow. Handsewn. Attached to a white cotton backing. Cotton padding.
1829 x 1829mm

Cotton quilt made in the USA. Pattern is the 'Evening Star' and each star has a frame. It is hand pieced and hand quilted and uses shirting material. It has been modified along two sides where the block extension is visible, having been turned to make a hem. The backing is calico and the padding is cotton.
1829 x 1575mm

Hexagon rosettes of printed and plain cotton in a flower pattern. Incomplete, top layer only.
2439 x 1981mm

Patchwork quilt, log cabin with central patch plus 2 logs. Many different materials from 1950s and 1960s. Machine pieced. The padding is a woollen blanket and the backing is a flannelette sheet. The quilt is tied with yellow cotton at each corner.
2170 x 1880mm