Quilt No.156WCQ - Wangaratta Centre Quilters Inc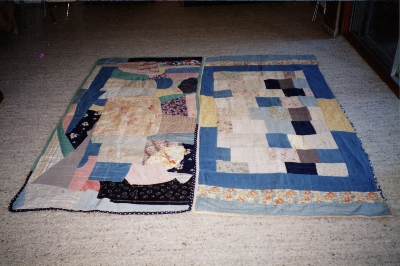 Owner:
Wangaratta Centre Quilters Inc
Description:
Irregularly patched from a variety of cotton dress prints, checks, plains and mattress ticking. 1920s and 30s fabrics. Both top and back are similar. Hessian padding. Originally two single quilts, now stitched together.
1850 x 1720mm
History:
Made by Jessie Waldron in the Sunraysia district of Victoria. Given to the Wangaratta Centre Quilters by Jessie's son Ted Waldron and his wife Fran.
Story:
"Donated to Centre Quilters by Ted and Fran Waldron, Wangaratta. The quilt was made by Ted's mother, Jessie, who lived in the Sunraysia district of Victoria. - the centre of the dried friut industry. The 'batting' in the quilt is hessian - presumably hessian which was used on the drying racks. It appears that this quilt was originally made as 2 single bed quilts and joined together at a later date."
[June Brown for Wangaratta Centre Quilters Inc 5.11.96]
Related Quilts:

The top has a segmented circle in the centre surrounded by a border of small rectangles. The circle is featherstitched on to the background. Materials are wools and cottons and it is hand pieced. The other side appears to have been originally men's suiting materials strip pieced. It is now covered with a children's print in light cotton joined in long rectangles. The padding is coarse heavyweight cotton.
1410 x 1080mm

" This coverlet is composed of two pieces of dark blue cheese cloth joined with a row of running stitches down the centre of the coverlet (the seam faces the front face of the coverlet but is hidden beneath a row of appliqué).
The coverlet is decorated with rows of pieced work surrounding appliquéd and embroidered scenes. A panel down the LHS of the quilt and a smaller panel lower RHS depict animals and floral images. In the centre RHS an elderly couple sit beneath a tree. In the upper left a bride and groom accompanied by three flower girls are showered with petals from a wicker basket carried by a very large angel. Glass beads, sequins and a button have been used to highlight the appliqué and embroidery.
As with all of Mary Jane Hannaford's quilts, the work is stitched by hand and quite crudely, but the naivety of the images is overwhelming with their charm." [NGA] The quilt is not padded or lined. 1950 x 1690mm

This Adelaide Chronicle wildflower quilt has alternating squares of green and fawn headcloth embroidered with Australian wildflowers on the fawn squares and stylised floral motifs on the green squares. It is bordered and backed with the same green material. It is padded.
2350 x 1530mm

Hand sewn cotton cot quilt with pattern of red and white lozenge shaped hexagons measuring approximately 65mm from top to bottom. A centre flower is constructed from 2 circles of 19 hexagons in red and white. This is surrounded by 8 smaller hexagon flowers. Additional single red hexagons are scattered at random on the white background around the rows of flowers. The quilt is not quilted or tied but is attached at all 4 edges. Writing on the back of the quilt (probably added later) reads "Made by Sarah Hodge, Newport, Wales UK for her first child John." There is no padding and the backing is white cotton. 1000 x 1250 mm.

Pieced patchwork quilt of hexagons in cottons, chintzes and linen. The centre is pieced in 6 point hexagon stars, then radiating out are large hexagons alternating with tumbling blocks, then 6 piece hexagon stars and 4 piece hexagon diamonds. Some pieces have Egyptian patterns dating from 1800 - 1805. The backing is cream linen.
2450 x 2200mm
Scrap quilt made of vertical strips of rectangles alternating with narrow strips of pieced triangles. Colours are subdued, blues, pinks, red, browns and black, in small patterns and stripes. Fabrics are suiting, rayon, crepe, gaberdine, taffeta and blazer wool. The padding or middle layer is pieced from hessian and suiting fabric, knitted cotton. and khaki and brown twill (uniform material). The middle layer is then handsewn to the back.
1550 x 870mm