Quilt No.440EW - Elizabeth Williams
Description:
Cotton quilt of plain and patterned hexagons, 6 joined to make a flower. The flowers are arranged in rows with single motifs filling the spaces. Hand sewn. The backing is heavy red cotton material. There is no padding.
2490 x 1803mm
History:
The quilt was made by Mrs. Celia Aitken, aunt of the present owner, as a gift in the early 1960s. Mrs. Aitken, now deceased, made it when she lived in Berwick Victoria The quilt has been in constant use since it was made.
Story:
"The maker of the quilt was the daughter of a pioneer family who farmed land out of Monbulk Victoria then were forced to move as their property became the site of the now Silvan dam. They then moved to a property at Trafalgar Vic where Celia Aitken met and married Jack Aitken also from a pioneering family."
[Elizabeth Williams 4.6.98]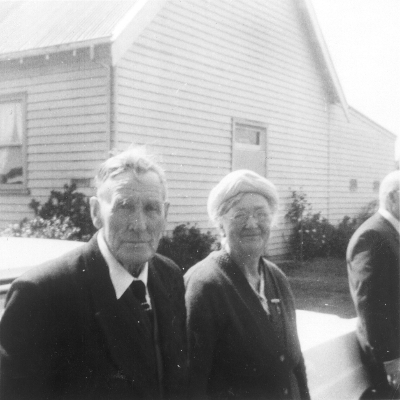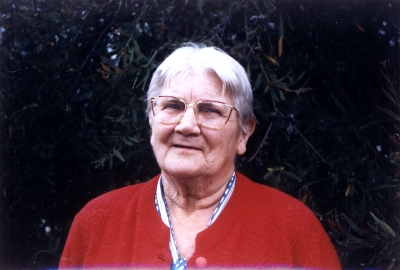 Related Quilts:

Quilt of machine pieced squares and rectangles using a wide variety of materials in plain colours and patterns. It is one of a pair. There is no padding and the backing is 90cm strips of calico.
2500 x 2130mm

Patchwork quilt, all cotton including cotton padding. 'Tree of Life' pattern. All 'Trees' are on white squares and are red or blue. Alternating squares are fawn or white. Simple diagonal quilting. Hand stitched.
1880 x 1728mm

Patchwork quilt of multi coloured silks and brocades. Crazy patchwork borders, mainly rectangular fabrics pieced together in diagonal patterns, radiating from a central frame embroidered with flowers. Many pieces are extensively embroidered in a great variety of stitches and motifs; butterflies, sunflowers, cats, daffodils, crown, pawn broker's symbol, 'money to lend', 'good night', the initials of family members and 'mater 1890'. The quilt has a deep border of maroon sateen. There is no padding visible but it is possibly a blanket. The backing is green/gold silk with a self stripe with red cotton damask showing underneath, possibly an earlier backing.
2165 x 2165mm

Utility quilt hand and machine sewn. The top has a centre frame of hand sewn hexagonal patches in a mix of dress materials and shirtings with four corner flowers and a roughly circular ring in red and blue stripe. The inner border has rectangular pieces in red/yellow/green/white hexagon printed material alternating with a blue/white spot. The outer border consists of large pieces of material, predominantly pink and blue stripes and checks. The backing is mainly red/white printed cotton. It is quilted all over in a diamond pattern. The padding is mainly flannel and has been made from another quilt.
1975 x 1675mm

Quilt made of Suffolk Puffs or flattened circles, in different bright colours in cotton and silk. Large single bed size.

Patchwork quilt, all cotton including cotton filling. "8 pointed star" with turkey red surround, white background. Hand stitched and hand quilted.
2109 X 1727mm