Quilt No.440EW - Elizabeth Williams
Description:
Cotton quilt of plain and patterned hexagons, 6 joined to make a flower. The flowers are arranged in rows with single motifs filling the spaces. Hand sewn. The backing is heavy red cotton material. There is no padding.
2490 x 1803mm
History:
The quilt was made by Mrs. Celia Aitken, aunt of the present owner, as a gift in the early 1960s. Mrs. Aitken, now deceased, made it when she lived in Berwick Victoria The quilt has been in constant use since it was made.
Story:
"The maker of the quilt was the daughter of a pioneer family who farmed land out of Monbulk Victoria then were forced to move as their property became the site of the now Silvan dam. They then moved to a property at Trafalgar Vic where Celia Aitken met and married Jack Aitken also from a pioneering family."
[Elizabeth Williams 4.6.98]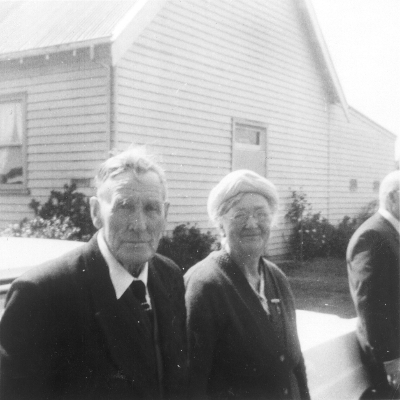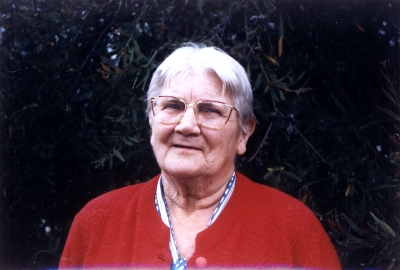 Related Quilts:

Large hexagon rosettes in a variety of plain colours. 6 form a flower and each hexagon has a contrasting colour for the centre. Machined smaller hexagons give a ruffled effect. Colours of flowers include teal, burnt orange, pink, lime and mauve. The material is nylon and the backing is a single piece of pink bubble nylon. The padding is a single piece of calico.
2050 x 1530mm

Frame quilt pieced from square, rectangular and triangular pieces from plain and patterned cotton. The central motif of the rooster is appliqued in red cotton on white background with a border of red triangles. There is a white cotton backing.
2000 x 1925mm

Patchwork quilt, all cotton including cotton filling. "Wedding Ring" pattern in variety of materials in plains and patterned, many pinks and blues.
Hand sewn and hand quilted.
2236 x 1804mm

Quilt, single bed size, made from reused clothing roughly handstitched on to a backing of a wool/linen blanket type fabric in green, cream and brown stripes. Clothing is fronts and backs of old jumpers, vests etc as well as opened out sleeves in red, brown and grey. They are stitched together in several layers with long stitches. Another top may have been intended to cover the stitched down layers of clothing.
1500 x 1040mm

Large squares, alternate brown check and blue check, of men's dressing gown material. "Everyone's father had one in 40s and 50s". [Pam Clifford]. No padding. Backing is smaller random shapes of men's grey suiting material. Machine construction. There is no quilting.
2236 x 1550mm

Quilt top, all cotton. Center frame is 600mm square of calico on to which is appliqued red material in an elaborate cut out design. Radiating rows of mainly red and blue triangles. Other materials include, white with abstract plants scattered across it, pink with pin print white dots, white and maroon herringbone with small white flowers with maroon leaf sprays spread 25mm apart. The border is a strip of red not hemmed but with selvedges on the long sides. The quilt is all hand sewn with small back stitch, running stitch and hemming.