Quilt No.197BM - Barbara McCabe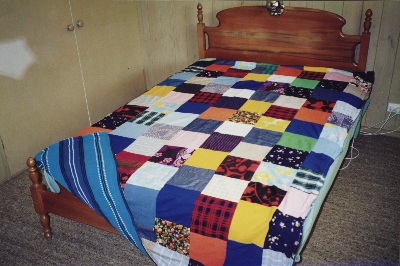 Description:
Patchwork quilt made from squares of cotton fabrics, from curtains, left over from dress making projects, and new fabrics. Colours are bright primaries and some pastels, prints are checks, florals, stripes and plain. Pieces were stitched together without any particular order. No padding or quilting. Backing is a cotton bedspread in turquoise and blue stripes.
2520 x 1600mm
History:
Made by Barbara McCabe while living in Geelong (VIC), 1969, early 1970s. Owned by Barbara McCabe.
Story:
Barbara and her husband David were school teachers, and moved around Victoria, from Echuca to Research to Geelong/Highton.
Barbara made a number of quilts in this style during the 1960s and early 1970s as bedcoverings for the family. When they ended their life as bed coverings, they were/are used as car boot liners, packing around furniture, etc.This quilt was made for her daughter, Mandy, and was still being used in 1985.
Related Quilts:

"A single bed cover made up of squares and recrangles of woollen fabric pieced together by a Vicker Sewing Machine from Myer Melbourne. The fabrics are either new (left over scraps) or used (unpicked woollen garments). The backing is an old (used) candlewick bedspread. There is no padding. It is faded and worn due to being used for other purposes later. There is a 66 cm high clown that ahs been appliqued on mainly by hand using blanket stitch. It is also made from scraps of fabric. The hands were cut from an old felt hat."
2400mm x 1660mm

Double sided quilt made from woollen suiting pieces some of which have hand worked eyelets. Many of the rectangles are irregular. Both sides use similar pieces but arranged in different patterns. There is no padding.
2160 x 1524mm

Hand pieced crazy quilt in a variety of plain coloured velvets. All seams are over embroidered in a variety of stitches. There is no padding and the backing is heavy black cotton. 1900 x 1630mm.

Log Cabin quilt featuring centre square and 3 outer borders. Evidence of later repairs and additions by machine and hand sewing. There is white paint on it. The log cabin pieces are sewn on to black netting. There is no padding and the backing is a centre piece of gold damask/sateen and green and black sateen borders.
1728 x 1321mm

Snow Ball' cotton quilt made in the USA. Feed bag materials and dress materials. Hand pieced and hand quilted. Calico border and backing.
2058 x 2007mm

Double sided quilt machine made from clothing scraps. Shapes are mainly rectangles in corduroy and wool blend. The padding is an old grey blanket.
1524 x 1372mm