Quilt No.197BM - Barbara McCabe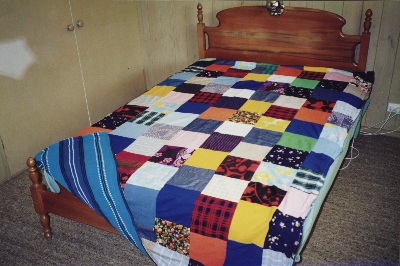 Description:
Patchwork quilt made from squares of cotton fabrics, from curtains, left over from dress making projects, and new fabrics. Colours are bright primaries and some pastels, prints are checks, florals, stripes and plain. Pieces were stitched together without any particular order. No padding or quilting. Backing is a cotton bedspread in turquoise and blue stripes.
2520 x 1600mm
History:
Made by Barbara McCabe while living in Geelong (VIC), 1969, early 1970s. Owned by Barbara McCabe.
Story:
Barbara and her husband David were school teachers, and moved around Victoria, from Echuca to Research to Geelong/Highton.
Barbara made a number of quilts in this style during the 1960s and early 1970s as bedcoverings for the family. When they ended their life as bed coverings, they were/are used as car boot liners, packing around furniture, etc.This quilt was made for her daughter, Mandy, and was still being used in 1985.
Related Quilts:

Quilt based on 70mm block. Cottons and rayon's with some reused materials. Machine pieced, hand quilted. Backing is mid blue cotton brought over to the front and machined to form a binding. Padding is probably cotton.
2510 x 1850mm

Patchwork quilt of squares measuring between 190mm and 220mm machined together. Materials include chenille, wool and nylon. There is no padding. The backing is green gabardine
1350 x 148mm

The centre of the quilt is a small blue 6 pointed star surrounded by a larger blue star. Blue stars also form a border to the quilt. The background material is a multicoloured small floral pattern on white cotton. The quilt is all hand worked over templates. The padding is cotton and the backing is polyester sheeting with a border of stars.
2650 x 2475 mm

Machine stitched quilt made from tailors' samples cut into squares. The colours are mainly greys, browns and fawns. There is no padding and the backing is a grey herringbone heavy woollen material with a white fleck. This is folded back to the front to make a 75mm border and finished with a dark grey braid where it meets the patchwork top. 1525 x 1225mm

Large hexagon rosettes in a variety of plain colours. 6 form a flower and each hexagon has a contrasting colour for the centre. Machined smaller hexagons give a ruffled effect. Colours of flowers include teal, burnt orange, pink, lime and mauve. The material is nylon and the backing is a single piece of pink bubble nylon. The padding is a single piece of calico.
2050 x 1530mm

Hand pieced hexagon quilt in pattern known as 'Grandmother's Flower Garden". 12 hexagons, in patterned cottons, form the outer border of each flower with an inner border of 6 matching plain coloured hexagons and all flowers have a yellow hexagon centre. There is no padding, a cotton backing and it is hand quilted.
2400 x 1780mm.