Quilt No.216WM - Wanda McPherson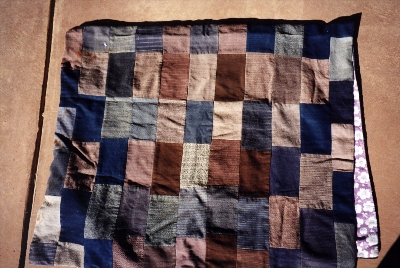 Description:
Patchwork quilt made from pure wool suiting samples in shades of navy blue and brown. Quilt is constructed in 11 rows containing 11 pieces. Each piece is 14cm x 9cm. No padding. Backing is of mauve cotton with a floral pattern of closely spaces white/pale mauve flowers.
1480 x 900mm
History:
Made by Margaret Egan (1860-1939), at Portland, VIC. previously owned by Mim Egan, now owned by Wanda McPherson.
Related Quilts:

Frame cot quilt in cotton fabrics, the centre square in a paisley print surrounded by two plain borders or frames, then two frames pieced in alternate light and dark triangles, then a frame in a floral print. Outer border is of red fabric, longer at top and bottom to make a rectangle. No quilting. Machine sewn.
1050 x 770mm

Crazy patchwork quilt pieced from velvets, satins, braids, taffetas, cottons with some decorative stitching. A ruffle and the backing are in ruby red satin. There is a dacron type padding.
1620 x 1200mm

Quilt made of Suffolk Puffs or flattened circles, in different bright colours in cotton and silk. Large single bed size.

The quilt consists of 2 layers of random pieces of woollen coating and suiting materials machined together, very dark colours on one side and a mixture of dark and lighter on the other. The 2 layers are quilted together with a row of machining and has a folded and machine stitched edge. There is no padding.
1270 x 950mm

The top is strips of mainly wools in blue, maroon and purple. The backing is imitation fur in brown and grey. They is no quilting. The padding appears to be a double sided pieced quilt from men's suitings or tailors' samples.
1500 x 1130mm

Large centre rectangle of hexagons in various colours of patterned and plain cottons. It is surrounded by a wide border in a checkerboard of red and white cottons. There is a wholecloth cotton backing. The front and the back have been turned under at the edge and machined. There is no padding.
1829 x 1372mm