Quilt No.216WM - Wanda McPherson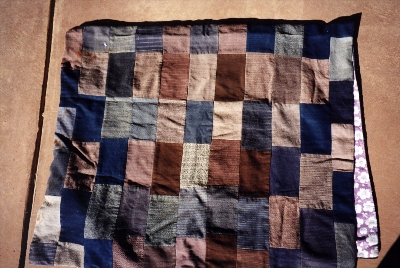 Description:
Patchwork quilt made from pure wool suiting samples in shades of navy blue and brown. Quilt is constructed in 11 rows containing 11 pieces. Each piece is 14cm x 9cm. No padding. Backing is of mauve cotton with a floral pattern of closely spaces white/pale mauve flowers.
1480 x 900mm
History:
Made by Margaret Egan (1860-1939), at Portland, VIC. previously owned by Mim Egan, now owned by Wanda McPherson.
Related Quilts:

Patchwork quilt made from squares of woollen fabric scraps from dressmaking. Squares are stitched together in no particular order. Colours are bright, with pink, yellow, green, brown and light blue predominating. Fabric is plain, checks and stripes. No padding or quilting. Backing is a cotton bedspread, striped in pinks and magenta.
2530 x 1640mm

Hand pieced hexagon quilt in pattern known as 'Grandmother's Flower Garden". 12 hexagons, in patterned cottons, form the outer border of each flower with an inner border of 6 matching plain coloured hexagons and all flowers have a yellow hexagon centre. There is no padding, a cotton backing and it is hand quilted.
2400 x 1780mm.

Unlined quilt. Central square of floral chintz with rectangular and chevron border making a larger frame that is set within another square-on-point frame edged with 2 toned red leaf pattererned chintz. This quilt is mainly pieced (squares, triangles, lozenges) but the hexagon rosettes are appliqued. Dress and furnishing cottons dating from the early 1800s. Raw edged, unfinished. All hand stitched.
2400 x 2400mm

"The coverlet is of cream cheesecloth, highly decorated with applied figures and pieced fabric bands. The appliqué bands follow the edge of the coverlet for some time and then become circles radiating from the centre. The bands form two framed circular areas that carry appliquéd images. A smaller area lower centre of the cloth depicts birds and insects. In the centre of the work is a bordered oval with two aboriginal figures, an angel, kangaroo, emu and kookaburra, with the words 'Advance Australia Fair' embroidered in black thread. The stitching and construction of the coverlet is quite crude." [NGA] The quilt is not padded or lined. 1640 x 1550mm

Pieced construction, repeat block format, American Blue Grass pattern. Hand stitched and quilted with a machined edge. Mauve check stars, 8 points, surrounded by 16 point stars in yellow floral. One star per block plus green squares and red strips. The background is yellow cotton and so is the backing. There is a dacron type padding.
1980 x 1740mm

Quilt of small silk and rayon rosettes of hexagons in prints and plain materials including velvet, voided velvet, chine, printed silk, brocades, taffeta, satin, crepes. Many of the materials are from Japanese kimono and wrapping silks. It is pieced over papers, one paper has a typed date '1930'. The backing is black silk satin and is turned to the front to form a border.
1695 x 1390mm