Quilt No.299ASA - Art Gallery of South Australia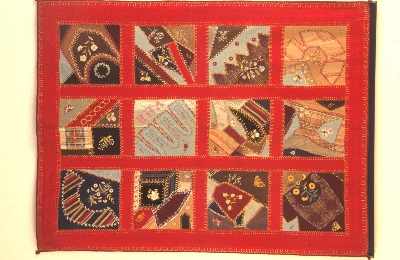 Owner:
Art Gallery of South Australia
Maker
Maker:
Virginia Huntingdon Barclay
Description:
Rectangular patchwork crazy quilt pieced in squares (3 across by 4 down), in silks and wool, with red sashing between blocks and red border, quilted. Colours are dark, with red and light blue. Embroidery includes double feather, rope, herringbone, satin, cross, sword edge, buttonhole and coral stitches, and French knots. Embroidered flowers include lily of the valley, rose, daisy, and sunflower, also butterflies. Backing is pieced in the frame style, with a large centre red square, within 10 frames or borders. Embroidered "In Most Loving Memory of My Darling 1883", "V.H.B." Hand sewn.
1900 x...
History:
Made by Virginia Huntingdon Barclay in Bethany, Virginia, USA, c.1883. Given to Mary Barclay (born Magarey) by her husband, Virginia's brother. Owned by her daughter Audine Andrews. Gifted to the Art Gallery of South Australia, Adelaide, in 1983 by Mrs. Audine Andrews.
832A4
Story:
Virginia Huntingdon Barclay, who died aged 21, made her quilt in Bethany, Virginia, United States. Her embroidered inscription is signed and dated 1883. The quilt was given to the donor's mother Mary Barclay (born Magarey) in 1919 on her return to South Australia with her family. Mary Barclay was born in South Australia and visited the United States in 1903 where she met and married the maker's brother.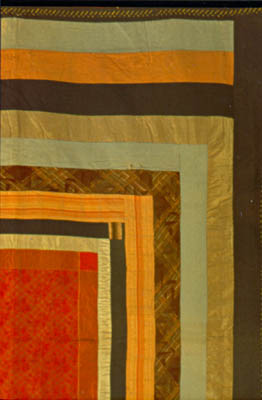 Related Quilts:

Patchwork quilt made from hexagon patches in silks and rayons, in pinks, blues, red, yellow mainly, with pastels. No padding. Bordered and backed with green satin.
1829 x 1372mm

Hand pieced crazy quilt in a variety of plain coloured velvets. All seams are over embroidered in a variety of stitches. There is no padding and the backing is heavy black cotton. 1900 x 1630mm.

American quilt in 'Dresden Plate' pattern. Hand stitched, Wide variety of cotton materials used in plain and patterned materials. The backing is cream cotton. It is hand quilted. This quilt was made from an American McCalls pattern consisting of transfers for the pieces and for the quilting design.
2400 x 1700mm

A frame quilt with a pattern using hexagons from crepe de chine and silk material. The centre frame consists of a blue rosette of hexagons surrounded by six rosettes or flowers all with black centres. These are surrounded by rows of hexagons and then a row of flowers and then more hexagon borders. The owner refers to the pattern as 'Grandma's Garden'. 2550 x 2550 mm

Log Cabin quilt made from a variety of cottons and silks. There is no padding and the backing is calico bags. 1500 x 1250 mm.

Patchwork quilt made from brightly coloured printed cotton fabrics in hexagon patches hand sewn together in rosettes, and stitched by machine onto a border of bright teal blue fabric. Fabric scraps for the patchwork were donated from friends. No padding. Backing is polished cotton curtain lining.
2312 x 1969mm