Quilt No.378MR - Mary and Max Robertson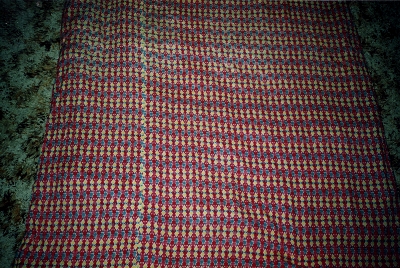 Description:
Traditional Wagga rug made from 3 wheat bags joined along the long side by sewing with bag needle and twine. Machined twill cover was put on later in the 1960s. Originally no padding but now the bags are the padding. One of a pair(identical).
1790 x 1160mm
History:
The original traditional Wagga rug was made by Max Robertson. Later it was covered with the patterned twill material by Mary Robertson. It is not used now but remains in the family, is valued and is stored in Coolamon NSW.
Story:
Max and Mary liked camping with their 3 children and used the Wagga rugs on the camp stretchers in the tent.
Related Quilts:

Wholecloth pram quilt with a top of pink cotton sateen, and the reverse is a more finely woven, ivory, fabric. All over quilting design as main feature, with stylised hearts, leaves and cross hatching. The padding is cotton batting. 870 x 660 mm.

Hand stitched, cotton, appliquéd, quilt in a flower pattern on a plain background. Colours are shades of green, apricot and browns. This quilt was known as a 'Bride's Quilt'. Padding is thought to be layers of white fabric raised almost like a wadding. The backing is cotton material. 2470 x 2020 mm.

Wholecloth quilt with one side cream wool and one side faded red wool. Red wool is joined with 3 seams by loom length; red appears to be cochineal dyed. Cream wool side appears to have been made from a hand woven blanket with blue selvidge on 2 sides. It is hand quilted in red wool thread; Welsh patterns including clamshell, Welsh pear, snail or spiral. Centre frame has 2 cable borders and the centre corners have fans. The outer quilted border has alternate 4 petal flowers, clamshell, and spirals.
It is padded with hand carded wool.
1950 x 1935mm

Wholecloth quilt with both sides of floral cotton. The padding is thought to be hessian bags.
2060 x 1300mm

Large double sided quilt of rectangles and squares of men's suitings, patterned and plain on both sides. The top has a central motif of a circle of three segmented rings radiating from a single hexagon. The outer ring is all tailors' samples and the inner rings are a variety of materials. There is some featherstitching in red. The quilt is sparsley machine quilted.

Patchwork quilt of rectangular wool and cotton tailors' samples, in browns, greys, navy, black and beige, in plains and patterned weaves. Padding is a woollen blanket, and the backing is a patterned cotton.
1956 x 1702mm