Quilt No.419VI - Val Ireland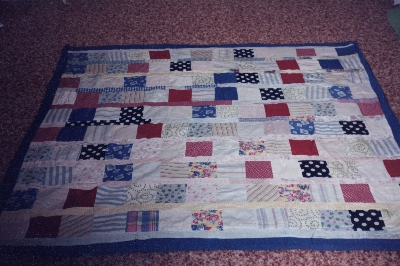 Description:
Utilitarian quilt. The padding is pieced used clothing and possibly reused blanket. The top and backing are machine pieced cotton scraps in a wide variety of pattern and colours.
1626 x 1601mm
History:
The internal quilt, now the padding, was made by Emily Ireland (born Metz) 1889-1933 in the late 1920s. It then passed to her son Eric 1924-1994 who was orphaned when he was 12. He took it with him when he married Val who made the new top and backing in 1952 in Penrith NSW. It is not used now.
Story:
" My grandmother had a lot of Waggas, on the old couches, on the sleepouts. My aunties had them too, they lived in the country and used them for warmth. I learnt about Waggs from them."
[Val Ireland 14.1.98]
Related Quilts:

Cotton quilt, machine sewn and hand quilted. Pattern similar to Double Irish Chain. The background is white and the small squares mainly patterned in pinks, blues, lilacs and greens. The backing is plain white cotton and the padding, which is lumpy, could be some type of cotton.
2057 x 1220mm

Frame quilt in cotton with cotton backing. Centre square of floral chintz surrounded by 8 smaller squares with floral and probably Egyptian motifs. 4 surrounding frames of plain and patterned cotton in squares, diamonds and strips. Hand stitched and hand quilted. Has been used as a curtain and has metal rings attached to one edge.
3759 x 2286mm

Pieced repeat block in 'Dresden Plate' pattern in a variety of fabrics with pink and pale blue predominating. Scalloped outer edge. Machine pieced and hand quilted, with echo quilting of four petals between the 'Dresden Plates'. The padding is polyester, and the backing is white calico. 2600 x 1630 mm.

Hand pieced and quilted quilt in silks, wool and cotton dress materials. The centre is a hexagon star in pink and yellow with black points. Most of the body of the quilt is pieced in Tumbling Blocks with an outer border of triangles. The backing is pieced from large rectangles of blue satin, rust-brown moire taffeta and brown-grey silk in a 'rectangle within a rectangle' pattern. The quilting is all over and finely done in yellow thread in a variety of patterns including snails, petalled flowers and hearts.

Patchwork quilt in the Log Cabin pattern, made from cotton fabrics in prints and plains in bright colours. There are 185 squares, all sewn on to check gingham. No padding. Backing is of black cotton.
2718 x 2540mm

Large and small pieces, mainly rectangles and mainly cottons, machine sewn. One side has replacement materials in red check, brown, tan, blue and pink materials. The padding is an old woollen blanket.
1950 x 1327mm