Quilt No.475GW - Glenda Wilkinson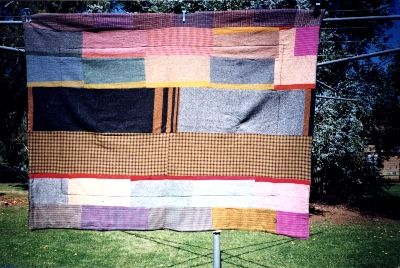 Description:
The quilt consists of 2 layers of random pieces of woollen coating and suiting materials machined together, very dark colours on one side and a mixture of dark and lighter on the other. The 2 layers are quilted together with a row of machining and has a folded and machine stitched edge. There is no padding.
1270 x 950mm
History:
The quilt was made by Miss Olive Budden who lived at the "Strathallen Home for the Aged" in Macleod, Melbourne in 1965. Olive Budden gave it to Glenda Wilkinson, the present owner.
Story:
"Miss Olive Budden, maker of this quilt, had access to offcuts from a coat factory. She made scores of quilts from these and took great pleasure in giving them to her friends and acquaintances. This was given to me for my children to use as a "car rug" in the days before cars were heated."[Glenda Wilkinson 21.10.98]
Related Quilts:

Thick padding for a wholecloth quilt constructed from pieces of old woollen clothing. The backing is a calico sheet. Originally had a cretonne cover.

Patchwork quilt made from rectangles of mostly woollen fabrics sewn in strips and then stitched together. Fabrics left over from dressmaking projects. Machine stitched. Colours mainly green, purple, blue, pink, pastels, in plain, checks and spots. No padding or quilting. Lining is an old bedspread.
2200 x 1440mm

Quilt consisting of 30 blocks 360 x 360mm each (5 x 6). Each block consists of squares and rectangles arranged diagonally and edged with triangles. Each block is made from 2 or 3 different cotton materials, different colours but mainly pastels. It has not been quilted but tied with pink wool with 5 ties per block. Machine sewn with a folded and machine stitched edge. Padding appears to be coarse open weave cotton. The backing is printed flannelette.
2210 x 1850mm

Patchwork quilt of pieced repeat blocks in 'T' pattern,mainly cottons. Quilt is constructed with 12 blocks across and 12 blocks down. Some fabrices have been reused from clothing, some blocks have patches which have been pieced from scraps to make enough fabric for the pattern. Padding is' pellon', quilt is backed, bound and quilted.
1600 x 1500mm

This quilt is of hand pieced hexagons randomly placed and stitched on to a linen backing. They are mainly dress fabrics and chintz with some hexagon flowers in the centre and corners in broderie perse. There is no padding.
2600 x 2600mm

Quilt of machine pieced squares and rectangles using a wide variety of materials in plain colours and patterns. It is one of a pair. There is no padding and the backing is 90cm strips of calico.
2500 x 2130mm