Quilt No.57SC - Sallie Cross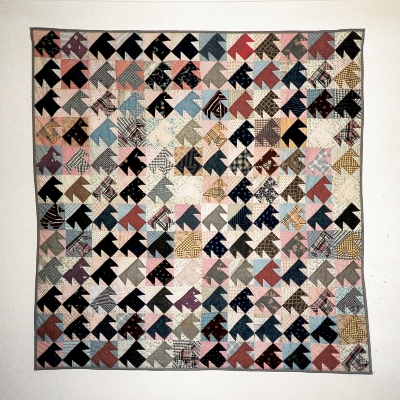 Description:
Patchwork quilt of pieced repeat blocks in 'T' pattern,mainly cottons. Quilt is constructed with 12 blocks across and 12 blocks down. Some fabrices have been reused from clothing, some blocks have patches which have been pieced from scraps to make enough fabric for the pattern. Padding is' pellon', quilt is backed, bound and quilted.
1600 x 1500mm
History:
Pieced quilt top bougnt at auction in London, Ontario, Canada in 1987 by the owner. Quilt top finished, padding, backing, quilting and binding, by owner's mother.
Story:
"I purchased this quilt unfinished at a deceased estate auction sale in London, Ontario, Canada in sept 1987 whilst holidaying there. I gave it to my mother who completed it. She completed it with pellon wadding, backing and quilted it. The fabric is small prints, checks, dull colours, no greens or bright colours. Some fabrics appear 'pre-loved', I.e. used in men's shirts, aprons etc, Some blocks contain fabric which has been stitched together to obtain maximum use of all scraps. Some 'Ts' are made of similar coloured fabrics, others are constructed of the same fabric. My mother feels this is an early 20th century piece."
[It is not known who pieced the top.] "At the time I was not interested in patchwork and quilting myself - now I do regret not getting more information on the day of purchase."
"At the auction sale the quilt was stored in a rusty old tin trunk. The auctioneer was having trouble getting a bid, when he opened the lid and pulled out the quilt I immediately said $5.00 and it was mine - not one bid against me."
[Sallie Cross 29.8.96]
Related Quilts:

The suffolk puffs are mainly cotton in a wide variety of colours and plain and patterned materials. The puffs are small squares rather than the more usual circles. The backing is teal satin hand stitched to the top. There is a teal bow at one end. There is no padding.
1570 x 1100mm

Patchwork quilt made of squares and rectangles in woollen fabric, stitched together without any particular pattern. Colours are mainly green, grey, blue, black, pink and some yellow. Fabrics are plain, checks and stripes. No padding, quilting or binding. Backing is a remnant of synthetic fabric. The quilt has been well sued and is very worn with fabric torn and marked in some places.
1400 x 400mm

Quilt with centre area of silk triangles framed with small squares and the rest of the top is larger squares. Wide variety of prints and plain materials. There is no padding. The backing is cotton and "E.M.B." is cross stitched in one corner. "Back is interesting as it's all the same fabric, joined but it appears to have been stitched with a running stitch (cf quilting) before it was attached to the front. It was definitely done after being joined as the stitching design follows through the seams." [Fran Williams]
2500 x 2500mm

Patchwork quilt made from rectangles of samples of men's woollen suitings, in greys and blues and some browns. The rectangles were machine sewn together and then sewn in rows or strips. Originally the quilt had a rabbit skin backing, removed due to deterioration. No padding. Machine sewn.
1550 x 1420mm

Patchwork quilt made of 1 inch hand paper pieced hexagonal patches (English technique), with plain and floral patterned blue fabrics in clusters at regular intervals throughout the taupe coloured patches. Centre of quilt has a cluster or 'flower' of 4 rings of patches, the centre group embroidered in blue satin stitch: 'MW 1938'. Border consists of 3 rows of medium, light and dark blue hexagons. No padding. Backing is of blue cotton sateen.
2185 x 1372mm

"This is not a true quilt, but a pieced coverlet with a lining. The entire front face of the quilt is of pieced hexagonal and part hexagonal printed cotton patches. Pieces are joined with hand sewn over casting stitches of many different coloured cotton threads. The joining of the patches forms a 'daisy' pattern in some areas and in others it is random. The edge of the front face of the quilt carries a 40mm strip of cotton Chinoiserie which is then folded to the reverse of the quilt and becomes part of the lining. The template for the hexagon patches remains in many of the patches: writing paper and news print." [NGA]
The work is not padded "The lining at the edge of the quilt (for approx.175mm) is a plain weave fabric of a Chinoiserie design. The centre field of the lining is a rectangular panel of a twill weave brushed cotton fabric with a striped floral design." [NGA] 2215 x 2070mm