Quilt No.57SC - Sallie Cross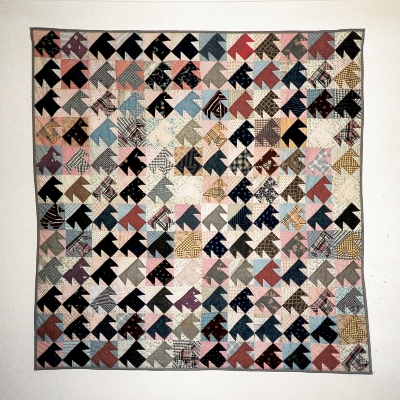 Description:
Patchwork quilt of pieced repeat blocks in 'T' pattern,mainly cottons. Quilt is constructed with 12 blocks across and 12 blocks down. Some fabrices have been reused from clothing, some blocks have patches which have been pieced from scraps to make enough fabric for the pattern. Padding is' pellon', quilt is backed, bound and quilted.
1600 x 1500mm
History:
Pieced quilt top bougnt at auction in London, Ontario, Canada in 1987 by the owner. Quilt top finished, padding, backing, quilting and binding, by owner's mother.
Story:
"I purchased this quilt unfinished at a deceased estate auction sale in London, Ontario, Canada in sept 1987 whilst holidaying there. I gave it to my mother who completed it. She completed it with pellon wadding, backing and quilted it. The fabric is small prints, checks, dull colours, no greens or bright colours. Some fabrics appear 'pre-loved', I.e. used in men's shirts, aprons etc, Some blocks contain fabric which has been stitched together to obtain maximum use of all scraps. Some 'Ts' are made of similar coloured fabrics, others are constructed of the same fabric. My mother feels this is an early 20th century piece."
[It is not known who pieced the top.] "At the time I was not interested in patchwork and quilting myself - now I do regret not getting more information on the day of purchase."
"At the auction sale the quilt was stored in a rusty old tin trunk. The auctioneer was having trouble getting a bid, when he opened the lid and pulled out the quilt I immediately said $5.00 and it was mine - not one bid against me."
[Sallie Cross 29.8.96]
Related Quilts:

Patchwork quilt made in the 'Trip Around the World' pattern, from cottons and some fine dress linen, in bright and pastel solids. Each colour is placed in a diamond shape on the quilt. Patches are 10cm square, quilt has 620 squares. The linen was mainly used to work the cross stitch. Quilt has a 2 inch border in black. Backing is sheeting. Each square is embroidered, with many different stitches, in geometric, floral, animal, insect and abstract designs, in different colours.
2760 x 2350mm

Crazy patchwork quilt with mainly patterned pieces in a wide variety of designs and colours. Backing is wholecloth patterned cotton. The quilt is edged with a checked bias binding. Machine construction.
2299 x 1449mm

Double sided patchwork quilt. Both sides have central frame surrounded by borders. Side 1 has diamond of squares set in a square frame 490mm. Borders are squares and triangles. Side 2 is central frame of squares on point surrounded by plain grey velvet border then marroon border. Materials are cottons, silks, velvet, crepe, rayons in a wide variety of colours and apperned and plain. Machine construction. No quilting. Padding is a cream wool blanket.
1440 x 1420mm

Quilt top of hexagonal patches in silk and velvet in colours of brown, black, soft green, maroon, light yellow and blue. Some materials self patterned. Blue backing papers can be seen at edges behind some patches.

Machine constructed log cabin quilt using a wide variety of strips of used clothing including cottons, men's suitings and wools. Each square is about 250mm and arranged in the 'light and dark of the fire' variation of log cabin. There is no padding. The backing is brown twill with an orange pattern and is probably a replacement backing.
2180 x 1710mm

Patchwork quilt, log cabin pattern. Made of strips of dark and light material arranged to produce strongly contrasting bands running diagonally across the quilt. Colours are mainly pinks and blues in small floral and paisley cotton prints. There is no padding.
1310 x 1140mm