Quilt No.57SC - Sallie Cross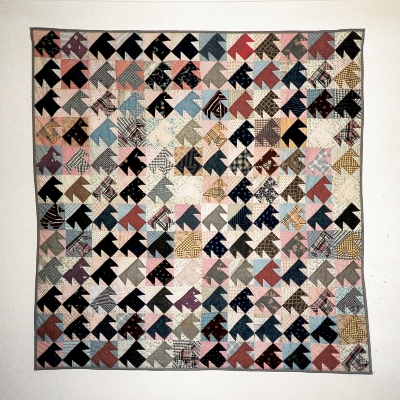 Description:
Patchwork quilt of pieced repeat blocks in 'T' pattern,mainly cottons. Quilt is constructed with 12 blocks across and 12 blocks down. Some fabrices have been reused from clothing, some blocks have patches which have been pieced from scraps to make enough fabric for the pattern. Padding is' pellon', quilt is backed, bound and quilted.
1600 x 1500mm
History:
Pieced quilt top bougnt at auction in London, Ontario, Canada in 1987 by the owner. Quilt top finished, padding, backing, quilting and binding, by owner's mother.
Story:
"I purchased this quilt unfinished at a deceased estate auction sale in London, Ontario, Canada in sept 1987 whilst holidaying there. I gave it to my mother who completed it. She completed it with pellon wadding, backing and quilted it. The fabric is small prints, checks, dull colours, no greens or bright colours. Some fabrics appear 'pre-loved', I.e. used in men's shirts, aprons etc, Some blocks contain fabric which has been stitched together to obtain maximum use of all scraps. Some 'Ts' are made of similar coloured fabrics, others are constructed of the same fabric. My mother feels this is an early 20th century piece."
[It is not known who pieced the top.] "At the time I was not interested in patchwork and quilting myself - now I do regret not getting more information on the day of purchase."
"At the auction sale the quilt was stored in a rusty old tin trunk. The auctioneer was having trouble getting a bid, when he opened the lid and pulled out the quilt I immediately said $5.00 and it was mine - not one bid against me."
[Sallie Cross 29.8.96]
Related Quilts:

Cotton scrap quilt with shapes of squares and diamonds and strips. There is no padding and the backing is calico.
2125 x 1440mm

Hand sewn cotton cot quilt with pattern of red and white lozenge shaped hexagons measuring approximately 65mm from top to bottom. A centre flower is constructed from 2 circles of 19 hexagons in red and white. This is surrounded by 8 smaller hexagon flowers. Additional single red hexagons are scattered at random on the white background around the rows of flowers. The quilt is not quilted or tied but is attached at all 4 edges. Writing on the back of the quilt (probably added later) reads "Made by Sarah Hodge, Newport, Wales UK for her first child John." There is no padding and the backing is white cotton. 1000 x 1250 mm.

" This is an unfinished section/piece of crazy quilting. Ribbons divide the piece horizontally into three sections; between these are bands of pastel fabrics and embroidery in the crazy quilt tradition. The fabrics and threads employed are very luxurious: laces, satin ribbons and silk velvets. The embroidery is very fine, employing a wide variety of stitches and threads. This patchwork piece is padded with cotton wadding and backed with tarlatan." [NGA] 1170 x 1020mm

Cotton quilt of pieced hexagons and some diamonds made for a baby's basket. Colours are mainly blue and pink and two 'Punch and Judy's' are appliqued in the centre. There is no padding and the backing is a cotton floral in blues and greens.
760 x 660mm

Double sided silk quilt. One side is paisley designs and the reverse plain silk . Machine pieced. There is a thin padding possibly sheeting.
2694 x 2287mm

Double sided quilt with both sides based on a central frame. One side has centre panel of darks surrounding 4 patch of the same print in different colourways. This is surrounded by borders of rectanglesis small prints, checks and stripes. The outer border is men's suitings. The other side has a centre frame similar to the 'Broken Dushes' pattern surrounded by wide borders in solid colours, paisley and fine checks. There is a dark strip across the top and bottom. It is roughly machine quilted.
1770 x 1380mm