Quilt No.595PWH - The Pioneer Women's Hut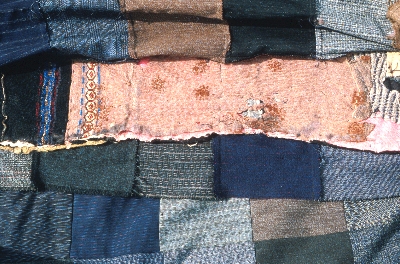 Description:
Double sided utility quilt made from machine pieced squares of tailors' samples and men's and boy's suitings. The padding is 5 or 6 layers of pieced used clothing including darned, threadbare socks, part jumpers, blanket pieces etc.
2090 x 1340mm
History:
The quilt was made by Neta le Cerf (born Cayirylys) c.1940 in Tumbarumba NSW. The quilt was made for use on beds in the house and on the verandah. It was stored in the linen press of Norm and Ellen Bradley's home at Rosewood and always valued. Norm Bradley donated it to the Pioneer Women's Hut. It is occasionally displayed at the Museum.
Story:
It is thought the tailors' sample books came from the family store of 'Le Cerf and Blencowe' in the Parade, Tumbarumba. As well as general groceries and farm merchandise men could order their suits through the store.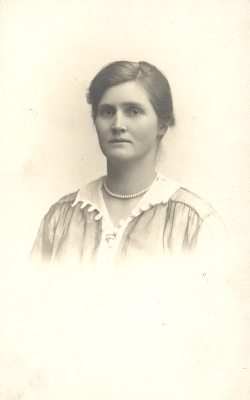 Related Quilts:

Machine sewn quilt made from 125mm squares of scraps left over from dressmaking joined in strips and then the strips joined. There is a border of fawn cotton and the backing is the same material. The padding is an old blanket and the border is padded with sheep's wool.
1400 x 925mm

Cotton quilt made in the USA. Pattern is the 'Evening Star' and each star has a frame. It is hand pieced and hand quilted and uses shirting material. It has been modified along two sides where the block extension is visible, having been turned to make a hem. The backing is calico and the padding is cotton.
1829 x 1575mm

Crazy patchwork quilt, mostly velvet, with two rectangular frames or borders of green fabric. All patchwork pieces have embroidery over the seams, mostly herringbone. Quilt is edged with a cream cotton ruffle. Cotton backing.
1625 x 1625mm

Patchwork quilt made from squares of cotton prints in florals, stripes, spots and checks, joined together in rows. Colours are predominantly blues, reds, yellow and pastels. Binding is of turquoise blue fabric. Materials appear to be from the 40s or 50s. Patches caught in the middle with a woollen knot - red, yellow, blue wool. No quilting. Backed in blue fleecy flannel.
Single bed length and width.

Patchwork quilt of square and rectangular patches, mainly in cotton fabrics, in plains and prints. Colours are predominantly yellow, pinks, blues and prints on white. Backing is the same except there is a piece of patterned curtaining material as a patch across the middle width. Padding is old blanketing.
1830 x 1140mm

"Hexagons pieced over cardboard hand-sewn together. Each rosette was then machine quilted 1/8th to 1/4 inch from edge of rosette in shape of each rosette. Quilt is mainly cottons with a few rayons. Some checks and stripes are used but mainly florals. Has been machine quilted in rosette shape using green on green fabrics, lemon on lemon, orange on orange and red on red." [Ryder Lundy] There is no padding and the backing is gold curtain fabric extended at the end and one side with matching taffeta. 2220 x 1270 mm.