Quilt No.409MC - Margery Creek
Description:
Medallion style all cotton quilt made in the USA. Hand pieced with centre panel of 'cheater' material pre printed in a patchwork design. Bordered with 'Nine Patch' and sashing. The backing is printed cotton and the padding is cotton. The quilt has yellow tufting or ties in wool.
1855 x 1525mm
History:
The maker is unknown. Margery Arnold Creek inherited the quilt from her Mother Margery Eleanor Arnold (1912-1996) who purchased it from a quilt dealer in New Jersey in 1991.
The quilt is not used.
Story:
Nothing is known of the early history of the quilt. Margery E. Arnold made quilts and collected them from the 1970s. She chose quilts to purchase usually by their fine workmanship and quilting designs.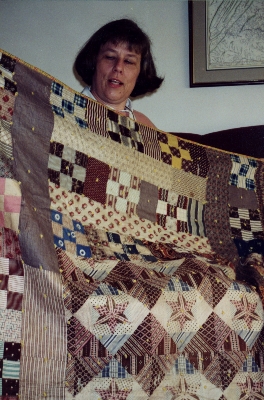 Related Quilts:

Patchwork quilt has a centre of a square within a square, with rows of scraps added around it. The scraps are mainly cotton shirting fabrics and are cut in different sizes and shapes. The two long sides have a narrow red edging folded from the back. The other two sides have been 'bagged'. Filling is an unusual weave thought to be wool. Backing is a pink, red and beige floral cotton.
2080 x 1650mm

Quilt in traditional design called 'Seven Sisters'. Seven stars, each of six diamonds are set against a cream background, surrounded by bright pink triangles. Hand pieced and hand quilted. Padding is cotton, and backing is cream calico. 2100 x 1850 mm.

Double sided quilt machine made from clothing scraps. Shapes are mainly rectangles in corduroy and wool blend. The padding is an old grey blanket.
1524 x 1372mm

" This is an unfinished section/piece of crazy quilting. Ribbons divide the piece horizontally into three sections; between these are bands of pastel fabrics and embroidery in the crazy quilt tradition. The fabrics and threads employed are very luxurious: laces, satin ribbons and silk velvets. The embroidery is very fine, employing a wide variety of stitches and threads. This patchwork piece is padded with cotton wadding and backed with tarlatan." [NGA] 1170 x 1020mm

Patchwork quilt of hexagon patches in a variety of colours and fabrics, including cottons, wool, lace, nylon. Edging is of yellow cotton. It is backed but there is no filling or padding.
2470 x 2100mm

Quilt of pale yellow cotton sateen with a centre star motif with 8 points in pink cotton sateen. A border of pink cotton sateen has pink triangles on each side. The quilt is machine sewn and elaborately hand quilted with designs including fleur-de-lys shape, feathers, vine pattern, clam shells, 8 petalled flower and cable pattern with the main ground cross hatched. The backing is pale yellow cotton sateen.
2235 x 2065mm