Quilt No.676MH - Margaret Hedges
Description:
Crazy patchwork quilt with small patches in velvet, silk, brocade and cottons most with hand embroidery over the seams. There are many motifs such as flowers, butterflies, birds also dates, initials and names of local properties. It is padded with a thin soft material and the replacement backing (old) is satin. There is a wide rose coloured frill on all sides.
1680 x 1380mm
History:
The quilt was made by Charlotte Augusta Barber (born Meara) probably at the property 'Mt. Taurus' or in Warrnambool in the latter part of last century. It was then owned by Charlotte Hedges, an aunt of the present owner, and now by Margaret Hedges the great grand-daughter of Charlotte Meara. It is not used now.
Story:
Charlotte Augusta Meara was born c.1815 and went to Van Dieman's Land in 1836 later crossing over to Belfast (now Port Fairy). In 1849 she and George Barber were married and lived in Port Fairy until 1855 when they moved to the neighbouring town of Warrnambool where George Barber established himself as a solicitor. They had 3 children Anthony, Louisa Ann and Ann Eliza. After practising in Warrnambool for a number of years George and Charlotte retired to a beautiful grazing property called 'Mount Taurus Estate'. George Barber died in 1897. Charlotte moved to Warrnambool and died in 1908.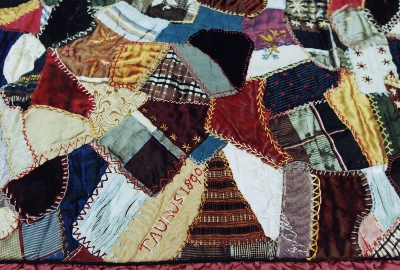 Related Quilts:

Cotton quilt, machine sewn and hand quilted. Pattern similar to Double Irish Chain. The background is white and the small squares mainly patterned in pinks, blues, lilacs and greens. The backing is plain white cotton and the padding, which is lumpy, could be some type of cotton.
2057 x 1220mm

Patchwork quilt made from a variety of printed cottons over 70 prints, using shirting and dress fabrics, fabrics also from pyjamas, curtains, aprons, tablecloths. The centre medallion is a square within a square with white borders, the inner frame made of sawtooth triangles. This is surrounded by pieced triangles, square within a square and crosses. Outer frame of sawtooth triangles, and outer border pieced of squares and triangles. Colours are pinks, blues, burgundy and pastels, with floral, stripe and check prints. Lining of cotton. Backed with a printed cotton. Quilt is bound on all edges.
2430 x 2250mm

Hand pieced hexagon quilt in pattern known as 'Grandmother's Flower Garden". 12 hexagons, in patterned cottons, form the outer border of each flower with an inner border of 6 matching plain coloured hexagons and all flowers have a yellow hexagon centre. There is no padding, a cotton backing and it is hand quilted.
2400 x 1780mm.

Pieced repeat block in 'Dresden Plate' pattern in a variety of fabrics with pink and pale blue predominating. Scalloped outer edge. Machine pieced and hand quilted, with echo quilting of four petals between the 'Dresden Plates'. The padding is polyester, and the backing is white calico. 2600 x 1630 mm.

Patchwork quilt made from diamond patches in a variety of cotton materials set in a 'tumbling block' pattern. Patterns include geometrics, stripes, a 'Kate Greenway' print and colours are largely soft pastels, dark browns, with some reds and blues. The quilt has been cut down and a later border added. There is no padding and the backing is cream cotton.
2279 x 2000mm

Quilt made with a rectangular centre panel of cotton fabric printed with red poppies and black flowers in a japanese style. The panel is surrounded by a wide black satin border. The backing is of black cotton, covering a previous backing of green floral cotton fabric. The padding is feathers.
1700 x 1370mm