Quilt No.622PWH - The Pioneer Women's Hut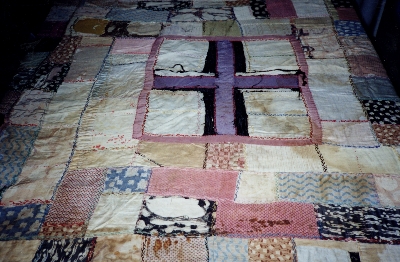 Description:
Patchwork top with a centre frame of a mauve cross outlined in black within a square bordered with pink. The rest of the top is rectangles and squares in a wide variety of materials. There is no padding. The backing is brown, possibly curtain material.
1910 x 1480mm
History:
The name of the maker, the place where the quilt was made and the date are all unknown. The quilt was found at a rubbish tip at Yanakie, near Wilson's Promontory, Victoria by Hazel Hayes of Endeavour Hills and donated to The Pioneer Women's Hut by Hazel Hayes and Margaret Rolfe, Canberra. It is too fragile to be displayed but is shown on request.
Related Quilts:

Quilt, single bed size, made from reused clothing roughly handstitched on to a backing of a wool/linen blanket type fabric in green, cream and brown stripes. Clothing is fronts and backs of old jumpers, vests etc as well as opened out sleeves in red, brown and grey. They are stitched together in several layers with long stitches. Another top may have been intended to cover the stitched down layers of clothing.
1500 x 1040mm

Quilt top, all cotton. Center frame is 600mm square of calico on to which is appliqued red material in an elaborate cut out design. Radiating rows of mainly red and blue triangles. Other materials include, white with abstract plants scattered across it, pink with pin print white dots, white and maroon herringbone with small white flowers with maroon leaf sprays spread 25mm apart. The border is a strip of red not hemmed but with selvedges on the long sides. The quilt is all hand sewn with small back stitch, running stitch and hemming.

Silk and velvet frame quilt with centre patchwork block of squares and triangles with a top and bottom border of silk in Royal Stewart tartan. This rectangular centre frame is surrounded by plain and 'saw tooth' (triangles) borders. The outer border is dark grey silk embroidered in pastels in stem stitch in a meandering vine and leaf pattern. There is no padding or quilting. Backing originally of mustard wool material machine stitched along turned in edges. Dark red cotton is attached to original backing.
2015 x 1320mm

Patchwork quilt, all cotton including cotton filling. "Wedding Ring" pattern in variety of materials in plains and patterned, many pinks and blues.
Hand sewn and hand quilted.
2236 x 1804mm

Patchwork quilt made of hexagons in cottons in a variety of prints. The patches are arranged in the 'Grandmother's Flower Garden' pattern, with dark patches around a light centre patch. The 'paths' are cream cotton. The border is made from diamond shapes placed alternately vertical and horizontal, between two edges of red striped fabric, with mitred corners.
No padding. Backing is red cotton, embroidered 'M.A. Wilson 1863'. Handsewn.
2500 x 2170mm

Machine pieced cot quilt made from squares of material including tweed, wool, blanket and pyjama material. The squares are joined in rows with colours randomly placed. There is a pink satin edging. The backing is part of a pale pink blanket.
1150 x 900mm