Quilt No.963NGA - National Gallery of Australia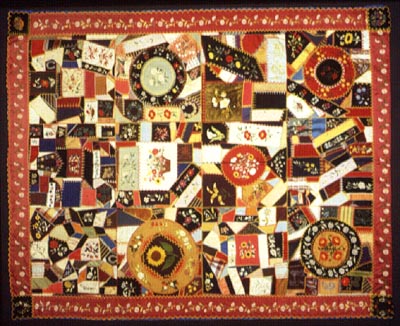 Owner:
National Gallery of Australia
Description:
"The quilt consists of 12 blocks of crazy patchwork with an embroidered border. The quilt is made of 167 different fabrics; most of these are silk. These velvets, printed silks and satins are beautifully embroidered with flowers, household items and Kate Greenway images of children at play. Many of the motifs have a strong influence from the Aesthetic Movement. The edge of the quilt carries a border in maroon silk decorated with tendrils and daisies in very fine embroidery.
The patches are joined with hand sewing and embroidery, however the 12 panels are joined with machine stitching (...
History:
Christina Brown made the quilt. The National Gallery purchased the quilt from a family living in New South Wales in 1989.
Story:
"Christina Brown (United Kingdom born 1815 - Australia died 1895) made this quilt. Mrs. Brown immigrated to Australia with her husband from Scotland in 1842. The Brown family had a property 'Cooerwull' at Bowenfels near Lithgow, New South Wales. Christina raised 3 children in the 1840's but did not produce this quilt until she was in her seventies, around 1890." [NGA]
Related Quilts:

Cotton frame quilt with a diamond in the centre of the frame and a border of straight pieces. The outer border is diamonds. The quilt is hand sewn and hand quilted.
1910 x 1830mm

Patchwork quilt made from squares of cotton fabrics, from curtains, left over from dress making projects, and new fabrics. Colours are bright primaries and some pastels, prints are checks, florals, stripes and plain. Pieces were stitched together without any particular order. No padding or quilting. Backing is a cotton bedspread in turquoise and blue stripes.
2520 x 1600mm

Patchwork quilt of hexagons, handsewn, in print and plain cottons and rayon. Central star group has diamond shaped groups of patches, with smaller flower shapes, an inner border of a star shape in yellow hexagons, and an outer border of hexagons in vertical bands. Colours are mainly blues, reds, greens and yellow, the 'paths' and border are a pink print. The backing is herringbone stitched to the border or sashing, which has mitred corners.
2400 x 2340mm

Hexagons appliqued onto sheeting. 5 groups of 6 hexagons in centre of sheet and continuous row of hexagon rosettes around border.
2261mm x 1664mm

Hand pieced and quilted quilt in silks, wool and cotton dress materials. The centre is a hexagon star in pink and yellow with black points. Most of the body of the quilt is pieced in Tumbling Blocks with an outer border of triangles. The backing is pieced from large rectangles of blue satin, rust-brown moire taffeta and brown-grey silk in a 'rectangle within a rectangle' pattern. The quilting is all over and finely done in yellow thread in a variety of patterns including snails, petalled flowers and hearts.

Frame cot quilt in cotton fabrics, the centre square in a paisley print surrounded by two plain borders or frames, then two frames pieced in alternate light and dark triangles, then a frame in a floral print. Outer border is of red fabric, longer at top and bottom to make a rectangle. No quilting. Machine sewn.
1050 x 770mm