Quilt No.643JB - Julie Bos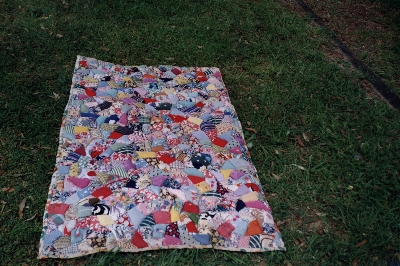 Description:
Crazy patchwork quilt with pieces made from cottons, rayons, silks and taffetas. Each piece is stuffed with kapok and machine sewn to a backing then a wholecloth floral cotton backing has been added.
920 x 164o mms
Related Quilts:

4 Pieces of a patchwork quilt which was formerly a whole quilt. It is pieced in cottons in blues reds and browns in many prints. There are whole circles and pieced circles against a plain cream calico background. It is wool lined and is quilted. There are the initials 'A.B.' and '1828' on a central piece. The 4 pieces are various sizes.

" A wide range of cotton fabrics have been used to make this quilt in the traditional log cabin style. The strips of the log cabin are joined by rows being hand sewn onto a small square backing fabric, each square of strips has then been hand sewn together to form the quilt. The work is backed with a sateen printed fabric decorated with paisley design. A strip of the lining trims the edge of the front face of the quilt. The lining is attached with machine stitching. There are numerous tacking stitches that remain in the front face of the quilt. There are approx 9000 pieces in the quilt, most being only 5mm in width.
The quilt is of three layers because the strips of the log cabin are attached to a backing piece, and then the quilt is lined; however it is not padded." [NGA]

Patchwork quilt made from cotton fabrics in stripes, small prints, and plains. Centre block is pieced red and white triangles within a blue and white striped frame, with a row above and below of triangles in a flying geese pattern. Two rows of triangles in the flying geese pattern are on either side the full length of the quilt. Quilt is bordered with red cotton. Colours are red, white, pink, blue and yellow. Padding is probably a woollen blanket, the backing is linen. Closely quilted all over.
2180 x 1930mm

" Double bed size coverlet made of white cotton 'blue bags' fabric (white cotton squares used to hold a measured amount of blueing agent used to keep linens white during the laundering process). Patches are sewn together in the 'Suffold Puff' style - a circle of fabric is gathered up to make a puff. Patches are joined by a few stitches on four sides. Coverlet is edged with a deep crochet fringe, to a depth of approx. 18cm on all four sides���On lining is written in black ink: 'C.Bleagard Baby Ken'. " [NT NSW]
2570 x 2380mm

This unfinished cover has a centre frame of a simple block. There are alternating plain and patterned borders including sword tooth, flying geese and squares on point. It is hand pieced with plain and twill weave cottons, variety of stripes, checks, florals and plains. There is no backing.
1800 x 1800mm

Handsewn cotton hexagons in a wide variety of patterns. Centre oval of hexagons with 2 outer rings. There is no padding and the backing is white cotton.
2490 x 2200mm