Quilt No.643JB - Julie Bos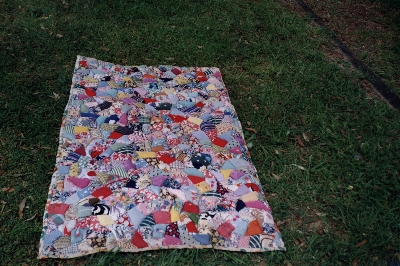 Description:
Crazy patchwork quilt with pieces made from cottons, rayons, silks and taffetas. Each piece is stuffed with kapok and machine sewn to a backing then a wholecloth floral cotton backing has been added.
920 x 164o mms
Related Quilts:

Hand stitched silk quilt in mosaic patchwork based on triangles. Pieces include dress materials and some embroidered linings fom men's waist coats. Paper templates. The backing is cotton.
2200 x 2000mm

Patchwork quilt made of pieced blocks in the 'Shoofly' pattern, in white cotton and a red, white and blue geometric cotton print. Alternate squares are in the print. The border is made of same size squares in the print. No padding. The backing is a sheet. Hand sewn.
1829 x 1829mm

Hand pieced hexagon quilt or table cover with centre motif of hexagons within hexagons. The remainder of the quilt is mainly hexagon rosettes. The materials are silks and brocades and it is pieced over papers in the English tradition.
1710 x 1600mm

Friendship Quilt'. All cotton with thick cotton padding. Each of the large panels of patchwork is different and many are signed by the makers who belonged to the Rebecca Lodge in Linwood California. Dates on the squares with signatures are 1933. Wide variety of colours and patterned and plain fabrics. The quilt is now in 2 pieces.
1981 x 1727mm

Pieced repeat block, hand pieced over papers in a diamond pattern. Blue patterned border. There is no padding and the quilt has been recently backed with calico. The 2 layers are tied together. 2240 x 1830 mm.

Patchwork quilt made of hexagons in silks, satins and brocades. Colours are soft, mainly creams and pastels, with some deep pink, yellow, dark grey and bright blue. Quilt is bordered with a wide band of light navy moire or faille. Padded, possibly with a blanket. Backed with cotton twill.
2420 x 1900mm