Quilt No.316MM - Bill & Barbara Meynink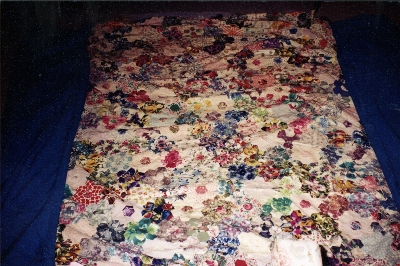 Description:
Patchwork quilt made from brightly coloured printed cotton fabrics in hexagon patches hand sewn together in rosettes, and stitched by machine onto a border of bright teal blue fabric. Fabric scraps for the patchwork were donated from friends. No padding. Backing is polished cotton curtain lining.
2312 x 1969mm
History:
Made by Jane Ellen Meynink (born Crothers, 1894-1983) in Brisbane (Qld) who began quilting in her retirement aged 70. Made before 1965 for her grand-daughter Margaret Stuart Meynink (born Easton), before she married. Now owned by Bill and Barbara Meynink. This is the 2nd of 6 quilts made by Jane.
Story:
Jane Ellen Meynink was an accomplished needlewoman, doing fancywork and tapestry. She was also a good cook. The aspect of her work which Jane Ellen really enjoyed was the donation of fabrics by friends, as she enjoyed the donors' visits.
"This quilt was made as a single bedcover. For Margie's marriage the quilt was extended in all directions for use on the double bed."
[Barbara Meynink]
Related Quilts:

Double sided patchwork quilt. One side has small 'Tumbling Block' pattern. The other side has larger pattern of pieced stars. It is made of silks, some printed, some solid colours mainly blues, greens cream and black. There is no padding.
2100 x 1800mm

Cotton quilt in pattern commonly known as "Double Wedding Ring'. Probably an American McCall's pattern. Hand stitched, florals, checks and plain pieces. The backing is pink cotton. Scalloped edge.
2300 x 1880mm

Quuilt constructed from large pieces of used clothing pieced together to form the top. There are layers of under shirts once used by the maker's father and also by her husband Bill. The backing is an old cream blanket.
1700 x 1200mm

Continuous 'sleeve' of hand sewn small hexagons, many woollen, some joined, some darned, plain and patterned. Several bands of plain coloured hexagons. The padding is ticking, an old cream blanket and part of a bedspread.
1960 x 800mm

Suffolk Puff quilt with puffs mainly in patterned cotton pieces saved from 60 years of household sewing. Puffs are formed into rosettes and the holes are on the top making a decorative feature. It is hand sewn.
2700 x 2400mm.
Child's Patchwork quilt of pieced repeat blocks in red print and white cotton, in 'Bow Tie' pattern. Qult has cotton backing, and wool filling. Some patches are fraying. The quilt has 'Mary Lactitia Thompson' embroidered on it.
1905 x 1296mm