Quilt No.651TRM - The Temora Rural Museum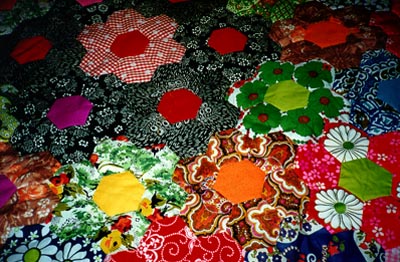 Description:
All cotton hexagon quilt using a wide variety of colours and patterns. The hexagons were hand stitched by Sylvia Schleibs in the same style she and her daughter, Norma Gilchrist, had previously made 3 hexagon quilts. There is a calico border and backing.
2000 x 1450mm
History:
This quilt was part made by Sylvia Schleibs in the Temora district NSW in the 1960s. In 1981 Sylvia's daughter, Norma Gilchrist, gave the hexagons to the Temora Rural Museum and in 1996 Marj Brown (the curator) completed the quilt by stitching the hexagons together and adding a calico border and backing.
Story:
Sylvia Schleibs was a typical farmer's wife with many interests and commitments including milking the cows and tending a large flock of chooks. She sold butter and eggs and violets, sewed, was a good cook and was practical and thrifty. She and Norma (daughter) only made hexagon quilts.
Marj Brown grew up on a farm and also married a farmer. Her interest in needlework was a great help to her in making her own and the children's clothes. She retired to Temora in 1982 where she became interested in the Rural Museum and became curator in September 1995. Her knowledge of needlework was a great help to her in repairing and finishing articles that were in storage. She likes doing tatting, crochet, knitting and embroidery of all types.
Related Quilts:

Handmade quilt in off centre log cabin pattern. Pieces are floral furnishing and dress fabrics, in twenty blocks. There is no padding, and backing is of bright floral cotton. 1900 x 1500 mm.

Hand stitched silk quilt in mosaic patchwork based on triangles. Pieces include dress materials and some embroidered linings fom men's waist coats. Paper templates. The backing is cotton.
2200 x 2000mm

Friendship Quilt'. All cotton with thick cotton padding. Each of the large panels of patchwork is different and many are signed by the makers who belonged to the Rebecca Lodge in Linwood California. Dates on the squares with signatures are 1933. Wide variety of colours and patterned and plain fabrics. The quilt is now in 2 pieces.
1981 x 1727mm

Hexagon quilt in dress and shirting cottons constructed in frame style with a centre rosette of 7 patches surrounded by 4 borders of patterned hexagons alternating with cream patches. The quilt has an inner border of triangles then rows of rosettes alternating with cream patches. The outer border is triangles. There is no padding. The backing is cream linen and has had a 20th century white cotton sateen slipstitched to it.
2045 x 1940mm

Patchwork quilt of pieced repeat blocks in cotton in white, blue, green, orange and red prints, plains and checks. Blocks are set between green sashes with white corner blocks. The pattern is 'Saw Tooth Star' or 'Jacob's Ladder' variation. Backing is of cotton, padding of cotton. Hand sewn and hand quilted.
2058 x 1296mm

Patchwork quilt in the Log Cabin pattern, made from cotton fabrics in prints and plains in bright colours. There are 185 squares, all sewn on to check gingham. No padding. Backing is of black cotton.
2718 x 2540mm