Quilt No.671SL - Sharon Lord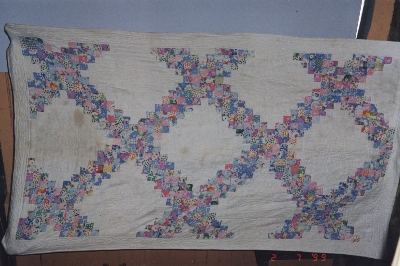 Description:
Cotton quilt, machine sewn and hand quilted. Pattern similar to Double Irish Chain. The background is white and the small squares mainly patterned in pinks, blues, lilacs and greens. The backing is plain white cotton and the padding, which is lumpy, could be some type of cotton.
2057 x 1220mm
History:
The present owner, Sharon Lord, found this quilt in the basement of a Toronto, Canada, home following the death of her Mother in 1994. Mrs. Howatt's neighbour was an avid quilter and could have made the quilt and it is also possible it was made by Mrs. Howatt's aunt ,Alice Hockley who lived north of Toronto. It is not used.
Related Quilts:

Patchwork quilt of pieced repeat blocks in cotton in white, blue, green, orange and red prints, plains and checks. Blocks are set between green sashes with white corner blocks. The pattern is 'Saw Tooth Star' or 'Jacob's Ladder' variation. Backing is of cotton, padding of cotton. Hand sewn and hand quilted.
2058 x 1296mm

Double sided quilt machine made from clothing scraps. Shapes are mainly rectangles in corduroy and wool blend. The padding is an old grey blanket.
1524 x 1372mm

Hexagonal piece of patchwork made up of 9 rows of rosettes of hexagons in a wide variety of colours and patterns mainly in silks and velvets. It is incomplete. Backing papers are still in the outside rows and also basting threads. Hexagons are joined by fine whip stitching. It is unlined.
1370 x 1220mm

Quilt top of plain, floral and printed cotton hexagons in a diamond pattern, separated by plain white hexagons. Hand written letters have been used as templates and some are still in position but the ink is faded and the writing now illegible. Tacking stitches are still in place.
3048 x 2210mm

Suffolk Puff quilt made from a variety of scraps of dress materials including cottons and terylene. It is backed with white cotton sheeting and edged with a frill of white terylene. There is a matching pillow sham.
1740 x 1300 mm.

Quilt made of Suffolk Puffs or flattened circles, in different bright colours in cotton and silk. Large single bed size.