Quilt No.671SL - Sharon Lord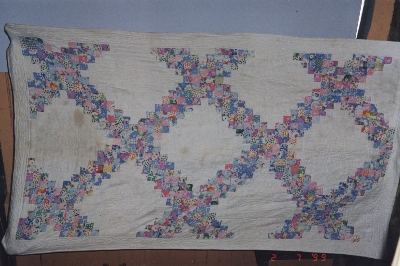 Description:
Cotton quilt, machine sewn and hand quilted. Pattern similar to Double Irish Chain. The background is white and the small squares mainly patterned in pinks, blues, lilacs and greens. The backing is plain white cotton and the padding, which is lumpy, could be some type of cotton.
2057 x 1220mm
History:
The present owner, Sharon Lord, found this quilt in the basement of a Toronto, Canada, home following the death of her Mother in 1994. Mrs. Howatt's neighbour was an avid quilter and could have made the quilt and it is also possible it was made by Mrs. Howatt's aunt ,Alice Hockley who lived north of Toronto. It is not used.
Related Quilts:

Rectangular quilt of print and plain cottons pieced in squares and rectangles, the centre group of pieces surround a larger piece of pale blue fabric, within a frame or border, of bright pink material, then 3 rows of squares and rectangles. Backing of plain fabric. Machine stitched on a treadle machine.

Cotton scrap quilt with shapes of diamonds, strip and squares. The quilt has been repaired using machine zig zag in white cotton. There is no padding and the backing is calico.
2175 x 1625mm

Rectangular patchwork crazy quilt pieced in squares (3 across by 4 down), in silks and wool, with red sashing between blocks and red border, quilted. Colours are dark, with red and light blue. Embroidery includes double feather, rope, herringbone, satin, cross, sword edge, buttonhole and coral stitches, and French knots. Embroidered flowers include lily of the valley, rose, daisy, and sunflower, also butterflies. Backing is pieced in the frame style, with a large centre red square, within 10 frames or borders. Embroidered "In Most Loving Memory of My Darling 1883", "V.H.B." Hand sewn.
1900 x 1500mm

A hand sewn quilt of more than 6,536 hexagon pieces in cottons, silks and polyester mix. There is a centre circular pattern of hexagons within a larger hexagon and small hexagons form larger hexagons in a random pattern on the quilt top. There is no padding and the backing is a plain fawn sheet with a floral edging in hexagons. 2880 x 2550 mm.

Hexagon quilt in dress and shirting cottons constructed in frame style with a centre rosette of 7 patches surrounded by 4 borders of patterned hexagons alternating with cream patches. The quilt has an inner border of triangles then rows of rosettes alternating with cream patches. The outer border is triangles. There is no padding. The backing is cream linen and has had a 20th century white cotton sateen slipstitched to it.
2045 x 1940mm

Crazy patchwork quilt, mostly velvet, with two rectangular frames or borders of green fabric. All patchwork pieces have embroidery over the seams, mostly herringbone. Quilt is edged with a cream cotton ruffle. Cotton backing.
1625 x 1625mm