Quilt No.831NTC - National Trust of Australia (TAS)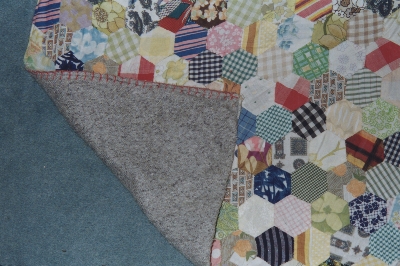 Description:
Patchwork quilt of cotton hexagons in a random mix of colours and prints, the predominant colours being blue, red, green, light yellow and pastels. Patches hand sewn. There is no padding and the backing is a grey wool blanket. The top is machine stitched around the edge to the blanket.
1645 x 1060mm
History:
Unknown. The quilt was made c.1965.
Related Quilts:

Patchwork quilt made from brightly coloured printed cotton fabrics in hexagon patches hand sewn together in rosettes, and stitched by machine onto a border of green moire taffeta. No padding. Backing is green cotton satin curtain lining. There is a matching pillow sham.
2591 x 2540mm

Utilitarian quilt. The padding is pieced used clothing and possibly reused blanket. The top and backing are machine pieced cotton scraps in a wide variety of pattern and colours.
1626 x 1601mm

Frame quilt of dress cottons, including some glazed cottons. The centre is 4 triangles pieced to make a rectangle. This is surrounded by a plain border, a border of triangles, plain border, triangles border, plain border, border of triangles pieced to form squares, square and triangle border, then rows of squares. The outer border is of glazed floral chintz with a brown background. The backing is cream linen pieced lengthways in 3 sections. There is no padding. It is quilted all over in a large clamshell pattern. The top is covered with netting.
2615 x 2280mm

Patchwork quilt, reversible, with log cabin blocks on one side, with central red square in each block. Colours predominantly light greys, browns and pastels, and dark grey and blue. Reverse side is made of squares constructed from 2 triangles, in black, patterned pastels, pale blue and dark red. There is a black border along 2 edges on this side. It is quilted.
2058 x 1829mm

Rectangular quilt of print and plain
cottons pieced in squares and rectangles within 2 frames, the inner border or frame of blue/green check material, then 2 rows of squares and rectangles, the outer frame of a grey and red geometric pattern and 2 rows of squares or rectangles. Backing of plain fabric. Machine stitched on a treadle machine.

Frame quilt with the centre frame featuring stars. These are English pieced and then appliqued on to the background using straight stitch on the machine. Borders are squares, rectangles and truangles. Mainly cottons. There is no padding. The backing is an old white bedspread similar to a Marcella.
1900 x 1930mm