Quilt No.875NTNW - National Trust of Australia (NSW)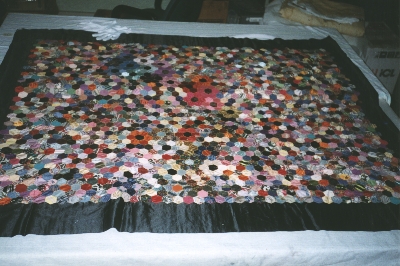 Description:
Quilt of small silk and rayon rosettes of hexagons in prints and plain materials including velvet, voided velvet, chine, printed silk, brocades, taffeta, satin, crepes. Many of the materials are from Japanese kimono and wrapping silks. It is pieced over papers, one paper has a typed date '1930'. The backing is black silk satin and is turned to the front to form a border.
1695 x 1390mm
History:
Details of the maker are unknown. The quilt was made in Australia probably in the 1930s. It is now one of the quilts in the National Trust (NSW) Collection.
Related Quilts:

Cot quilt of mixed textiles and techniques. Made in sections and stitched together possibly with some padding. It features embroidered and appliqued animals (cats, donkey, elephant, squirrel, birds, kangaroo, emu) and nursery rhyme characters. Materials are cotton, silk, wool, imitation fur. There is a black velvet patch with a cross stitch parrot and embroidered date and initials 'May 1925 AE'. The backing is woven self patterned curtain material. There is a ruffle around the edge in the same material.
1400 x 930mm

Log cabin patchwork pieces (2) with each block approximately 120 x 120mm. They are diagonally divided into light and dark side. Materials are mainly silks including silk velvets. Each block is stitched on to a backing square, pieces of old blanket, woollens, cottons, many very worn. There is no other backing.
Quilt is hand pieced.
1000 x 1000mm

Frame quilt with central square of fabric around which the borders or frames have been added in strips. The fabrics are mostly floral, a heavy weight similar to damask or curtaining. The colours are mainly beige, brown, green and red. The original backing was a red paisly design. A second backing, of red, brown and yellow leaves on white (possibly dating from 1930s), has been added at a later date. Quilt is bound with brown fabric.
2200 x 2000mm

Double sided patchwork quilt/rug constructed from squares machined together in strips and then the strips joined. The squares average about 27cms. The materials are mainly woollens, fleck tweed, school jumpers, gren check, and chenille and all are from used clothing.
1800 x 1170mm

Dresden plate quilt with pointed pieces set around a white centre. Fabrics are checks, floral patterns and plains of the 1930s. The twenty blocks are sashed with plain mauve fabric which does not meet evenly in some places. The padding is two layers of cotton bedspreads. The backing is open weave rough quality cotton.
1860 x 1550mm.

Patchwork quilt made of 1 inch hand paper pieced hexagonal patches (English technique), with plain and floral patterned blue fabrics in clusters at regular intervals throughout the taupe coloured patches. Centre of quilt has a cluster or 'flower' of 4 rings of patches, the centre group embroidered in blue satin stitch: 'MW 1938'. Border consists of 3 rows of medium, light and dark blue hexagons. No padding. Backing is of blue cotton sateen.
2185 x 1372mm