Quilt No.890NMA - National Musuem of Australia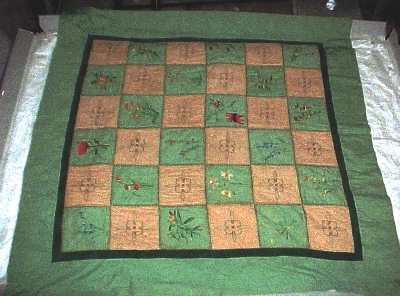 Owner:
National Musuem of Australia
Description:
Patchwork quilt with alternate squares of green and fawn cotton headcloth. Various Australian wild flowers are embroidered in coloured threads in the green squares. In the fawn squares there is a stylised flower and leaf pattern outlined in embroidery. The border, front and back is green headcloth. The backing is printed cotton with a floral design. There is some padding.
1610 x 1610mm
History:
The quilt was made by Nettie McColive from a pattern published in the 1930s in 'The Adelaide Chronicle' a weekly newspaper. It is now in the collection of the National Museum of Australia.
Related Quilts:

Quilt of crocheted squares (sometimes known as Granny squares) in pinks, blues, greens and brown, with a green crocheted border edged in brown. Quilt is backed. A cot quilt or a knee rug.

A frame quilt with a pattern using hexagons from crepe de chine and silk material. The centre frame consists of a blue rosette of hexagons surrounded by six rosettes or flowers all with black centres. These are surrounded by rows of hexagons and then a row of flowers and then more hexagon borders. The owner refers to the pattern as 'Grandma's Garden'. 2550 x 2550 mm

"A single bed cover made up of squares and recrangles of woollen fabric pieced together by a Vicker Sewing Machine from Myer Melbourne. The fabrics are either new (left over scraps) or used (unpicked woollen garments). The backing is an old (used) candlewick bedspread. There is no padding. It is faded and worn due to being used for other purposes later. There is a 66 cm high clown that ahs been appliqued on mainly by hand using blanket stitch. It is also made from scraps of fabric. The hands were cut from an old felt hat."
2400mm x 1660mm

Silk quilt in diamonds with hexagon border. "Toward the edge of the quilt, the design of diamonds made into blocks offers an optical illusion, where the diamonds can be seen to form stars. The border is made up of these stars and half-diamonds, and the entire quilt is trimmed with lace and triangular flaps made of tiny hexagons." [extract unidentified magazine article supplied by quilt owner.]
The backing is maroon cotton. 1600 x 1600 mm.

This domestic Wagga is two layers of woollen army blankets with the top layer in rectangles joined in rows. The backing is hessian bags that originally contained meat meal.
11650 x 1130mm

Patchwork quilt or table covering dark and light silks in bright colours, pieced from diamond shapes into stars with black patches between the stars. Plain and patterned silks are used for the stars. Border is made from a single row of Tumbling Blocks in plain silks with an edging on each side of truncated black diamonds on blue on the inside, orange on the outer edge. There is a star pieced of diamonds in each corner. Hand sewn.
1830 x 1800mm