Quilt No.890NMA - National Musuem of Australia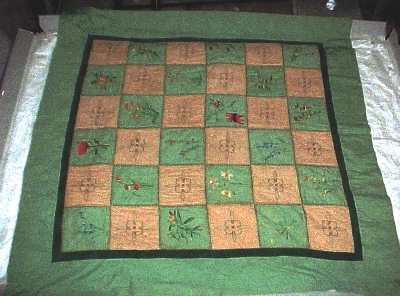 Owner:
National Musuem of Australia
Description:
Patchwork quilt with alternate squares of green and fawn cotton headcloth. Various Australian wild flowers are embroidered in coloured threads in the green squares. In the fawn squares there is a stylised flower and leaf pattern outlined in embroidery. The border, front and back is green headcloth. The backing is printed cotton with a floral design. There is some padding.
1610 x 1610mm
History:
The quilt was made by Nettie McColive from a pattern published in the 1930s in 'The Adelaide Chronicle' a weekly newspaper. It is now in the collection of the National Museum of Australia.
Related Quilts:

Double sided frame quilt. All reused materials including corduroys, wools and light weight suitings. Machine made and not quilted There is no padding as already heavy and warm.
1780 x 1530mm

Patchwork quilt made of approx. 730 Suffolk Puffs, using mainly cotton materials in florals and plains. Each puff is 45mm diameter. The quilt centre has a square of 16 pink puffs outlined with a single row of blue puffs. Each corner of the quilt has a square of 9 puffs in a single colour. No padding. Quilt is edged and backed with a red and white tartan cotton.

Double sided square quilt mainly in cottons. Side 1 has been made in 4 squares each consisting of different sized strips and rectangles. With side 2 there appears to have been 2 stages as if the quilt was extended perhaps to match side 1. It is also squares, rectangles and strips. Sparsley machine quilted. There is no binding but side 2 has been turned over to side 1 and stitched by machine.
1525 x 1525mm

The body of this quilt is hexagons. This centre piece is surrounded by an applique border of birds and flowers and donkeys on see-saws. The flowers have been elaborately pieced from a great variety of materials. Some of the birds have pres studs for eyes.

Double sided quilt made from woollen suiting pieces some of which have hand worked eyelets. Many of the rectangles are irregular. Both sides use similar pieces but arranged in different patterns. There is no padding.
2160 x 1524mm

Double sided patchwork quilt/rug constructed from squares machined together in strips and then the strips joined. The squares average about 27cms. The materials are mainly woollens, fleck tweed, school jumpers, gren check, and chenille and all are from used clothing.
1800 x 1170mm