Quilt No.941NTW - National Trust of Australia (WA)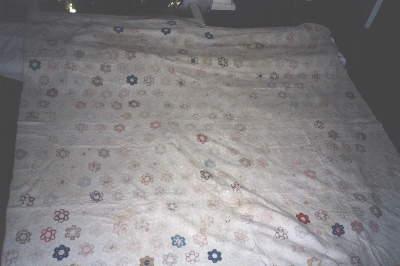 Description:
Patchwork quilt in Grandmother's Flower Garden pattern, consisting of 7 patch rosettes with white 'paths'. Cotton dress and shirting materials have been used in blues, pinks, brown, turkey red and Prussian blue. The quilt is hand sewn and each hexagon is 25mm wide. The backing is cream twill cotton in three panels. There is a hand sewn binding in red/pink cotton. There is overall quilting in chevron or zigzag pattern.
2415 x 2110mm
History:
A label attached to the back of the quilt reads: "76/27 Made about the middle 1800 in Ireland by grandmother of Jane Patten." Jane Patten's family came from Northern Ireland, County Down. E.M.Grove, Floreat Park, Perth, the grand-daughter of Jane Patten, donated the quilt to the National Trust, WA. It is stored at Woodbridge, Midland WA.
Related Quilts:

Square quilt top. Floral centre piece with borders of squares set in a diamond pattern. Squares are in plain colours and patterns. There is no padding or backing.
920 x 920mm

Double bed patchwork coverlet of pieced blocks in a pinwheel or dresden plate pattern of prints on a cream ground, each block with a 1 3/4" border or sash. Each pinwheel has 10 pieces, and the quilt is constructed 8 blocks by 6. Cotton fabrics are in florals, checks and stripes, in blues, greens browns, pinks, purple. The quilt was in poor repair and has been reduced in size. Conservation work has been done by the State Conservation Centre.
Backing or filling unknown.

"The quilt is made up of many cotton hexagons of various colours, patterns and designs, finely sewn by hand, making a very attractive bedspread. Each patch is lined with lawn. It is quite a heavy quilt, with its plain border, and backing of home-spun cotton or cesarine. The family always called it a 'cottage design'."
No quilting.
2312 x 1905mm

Cotton Hexagon quilt with a wide variety of patterned and plain materials. Blue binding and a cotton backing. The padding is thought to be cotton wool.
1525 x 1220mm

Patchwork quilt of pieced repeat blocks in 'T' pattern,mainly cottons. Quilt is constructed with 12 blocks across and 12 blocks down. Some fabrices have been reused from clothing, some blocks have patches which have been pieced from scraps to make enough fabric for the pattern. Padding is' pellon', quilt is backed, bound and quilted.
1600 x 1500mm

The quilt is a repeat block in the Ohio Star pattern in turkey red and cream. Quilted in squares in the cream block and diagonal lines in the star block. The fabric border is disintegrating. The backing is cream calico and the padding is cotton, badly degraded. 1940 x 1760mm.