Quilt No.941NTW - National Trust of Australia (WA)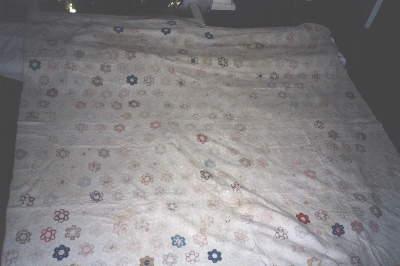 Description:
Patchwork quilt in Grandmother's Flower Garden pattern, consisting of 7 patch rosettes with white 'paths'. Cotton dress and shirting materials have been used in blues, pinks, brown, turkey red and Prussian blue. The quilt is hand sewn and each hexagon is 25mm wide. The backing is cream twill cotton in three panels. There is a hand sewn binding in red/pink cotton. There is overall quilting in chevron or zigzag pattern.
2415 x 2110mm
History:
A label attached to the back of the quilt reads: "76/27 Made about the middle 1800 in Ireland by grandmother of Jane Patten." Jane Patten's family came from Northern Ireland, County Down. E.M.Grove, Floreat Park, Perth, the grand-daughter of Jane Patten, donated the quilt to the National Trust, WA. It is stored at Woodbridge, Midland WA.
Related Quilts:

Cotton quilt entirely of hesagons. Some are formed into rostttes or flowers and have a print border of 12 hexagons, an inner circle of 6 hexagons in a plain colour and a yellow hexagon centre. The padding is cotton wool and the backing plain off white cotton.
2210 x 1430mm

Quilt made from furnishing materials some with mettalic flecks. It is machine sewn.
160 x 135mm

Silk quilt in diamonds with hexagon border. "Toward the edge of the quilt, the design of diamonds made into blocks offers an optical illusion, where the diamonds can be seen to form stars. The border is made up of these stars and half-diamonds, and the entire quilt is trimmed with lace and triangular flaps made of tiny hexagons." [extract unidentified magazine article supplied by quilt owner.]
The backing is maroon cotton. 1600 x 1600 mm.

Patchwork crazy quilt of late 40s and early 50s. Pieces are from curtains, tablecloth,other kitchen type fabrics in cotton, seersucker and linen. Colours are mainly reds, greens, blues, and pastels, in prints and plain. Herringbone stitch is worked around the edge of each patch. No filling. The backing is calico with one edge in a piece of coloured cotton from the front; the calico was a little small for the top.
2020 x 1400mm

Quilt in a wide variety of patterned and plain hexagons in cotton with a wide green border. There is no padding and the backing is cotton.
2500 x 2200mm

Crazy patchwork on to foundation material with the edges of the pieces turned under and machined. It is not quilted. A 25mm red binding has been machined on. There is no padding. The backing is red wholecloth cotton.
1940 x 1540mm