Quilt No.1041JJ - June Johnson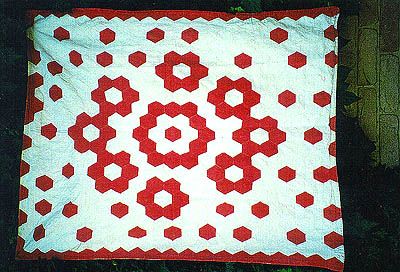 Description:
Hand sewn cotton cot quilt with pattern of red and white lozenge shaped hexagons measuring approximately 65mm from top to bottom. A centre flower is constructed from 2 circles of 19 hexagons in red and white. This is surrounded by 8 smaller hexagon flowers. Additional single red hexagons are scattered at random on the white background around the rows of flowers. The quilt is not quilted or tied but is attached at all 4 edges. Writing on the back of the quilt (probably added later) reads "Made by Sarah Hodge, Newport, Wales UK for her first child John." There is no padding and the...
History:
The quilt was made by Sarah Hodge (born Simms) in Newport, Wales GB in 1865 for the birth of her first child John; It then passed to her daughter Fanny Bynon (born Hodge) and then to Fanny's daughter, Edna Ley (born Bynon) when her first child was born in 1941. Edna Ley died in 1996 and the quilt passed to June Johnson, great grand daughter of the maker. It is not used but displayed on special occasions such as Christmas.
Story:
Sarah Simms (later Hodge) was born in Bampton, North Devon UK and moved to Newport when she married. Her husband worked either in mines or in chemical works. She had 6 children and made the quilt for her first born, John. She died in 1934 in Wales.
The quilt was brought to Western Australia in 1956 when the family moved from Wales to Perth for better weather and a better life style for the children.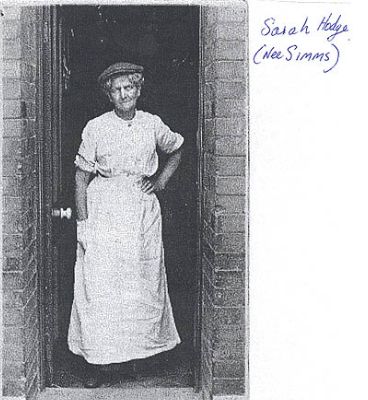 Related Quilts:

Double sided patchwork quilt. One side has small 'Tumbling Block' pattern. The other side has larger pattern of pieced stars. It is made of silks, some printed, some solid colours mainly blues, greens cream and black. There is no padding.
2100 x 1800mm

Cotton quilt in pattern commonly known as "Double Wedding Ring'. Probably an American McCall's pattern. Hand stitched, florals, checks and plain pieces. The backing is pink cotton. Scalloped edge.
2300 x 1880mm

Quuilt constructed from large pieces of used clothing pieced together to form the top. There are layers of under shirts once used by the maker's father and also by her husband Bill. The backing is an old cream blanket.
1700 x 1200mm

Continuous 'sleeve' of hand sewn small hexagons, many woollen, some joined, some darned, plain and patterned. Several bands of plain coloured hexagons. The padding is ticking, an old cream blanket and part of a bedspread.
1960 x 800mm

Suffolk Puff quilt with puffs mainly in patterned cotton pieces saved from 60 years of household sewing. Puffs are formed into rosettes and the holes are on the top making a decorative feature. It is hand sewn.
2700 x 2400mm.
Child's Patchwork quilt of pieced repeat blocks in red print and white cotton, in 'Bow Tie' pattern. Qult has cotton backing, and wool filling. Some patches are fraying. The quilt has 'Mary Lactitia Thompson' embroidered on it.
1905 x 1296mm