Quilt No.282IB - Ida Blenkiron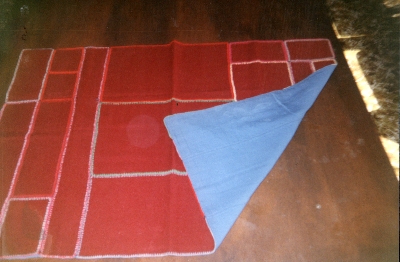 Description:
Patchwork knee rug made from maroon wool cut up from a garment into different sized rectangles. Pieced by hand, then all edges crocheted with coloured wool thread. The top was then machined and quilted to a pale blue wool backing. No padding.
1080 x 780mm
History:
Made by the owner, Ida Blenkiron, at Angaston (SA) 1958 - 1960.
Story:
The top cover of the rug was Ida's winter overcoat which she wore in her teenage years 1930 - 1940.
Related Quilts:

Hand stitched quilt of suiting materials. Centre rectangle also suiting materials but arranged with a smaller scale, is edged with a cord of red fabric covering string. The outer red border has been renewed by the owner and closely matches the original. The backing is ticking. There is no padding.
2390 x 2110mm

Patchwork quilt with repeat blocks of Log Cabin pattern in cottons. One side of the square has blue fabrics, the other side has pink. Blocks are separated by a floral and a blue strip. The quilt is finished with a dark blue border on 2 sides, and a light and dark blue border on the other 2 sides. Dark blue binding around edge. Hand quilted with a cable pattern on the borders. Padding is probably synthetic. The quilt is backed.

Hand pieced hexagon quilt in pattern known as 'Grandmother's Flower Garden". 12 hexagons, in patterned cottons, form the outer border of each flower with an inner border of 6 matching plain coloured hexagons and all flowers have a yellow hexagon centre. There is no padding, a cotton backing and it is hand quilted.
2400 x 1780mm.

Quilt of crocheted squares (sometimes known as Granny squares) in pinks, blues, greens and brown, with a green crocheted border edged in brown. Quilt is backed. A cot quilt or a knee rug.

Patchwork quilt made of hexagons in printed cottons, colours predominantly red, blue pink, brown and yellow. Handsewn. Attached to a white cotton backing. Cotton padding.
1829 x 1829mm

Patchwork quilt, all cotton including cotton filling. "Wedding Ring" pattern in variety of materials in plains and patterned, many pinks and blues.
Hand sewn and hand quilted.
2236 x 1804mm