Quilt No.482CR - Catherine Ringwood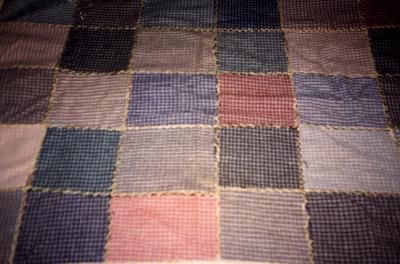 Description:
The top of this quilt is 6 x 5 alternating squares and rectangles of check woollen material in 12 or more colour ways. Herringbone stitch in yellow stranded cotton is worked along each join and border.The border is plain grey wool. There is no padding and the backing is light blue crepe.
1118 x 814mm
History:
The quilt was made by Kate Day (1922-1965) around 1935 to 1938 when she was a pupil at the Presbyterian Ladies College Melbourne. It is believed to have been made as part of the needlework curriculum at the school. It is now owned by her daughter Catherine Ringwood. The quilt is not used now and probably never was.
Story:
"My mother told me she disliked making the quilt but it was a compulsory activity and she reluctantly finished it." [Catherine Ringwood 10.3.1999]
Related Quilts:

Crazy patchwork quilt of pieces of plain and patterned silks in bright and pastel colours, each patch edged and decorated with a variety of embroidery stitches, including star, spider, french knot and feather and herringbone variations. 2 patches of early aniline dyed blue silk. Motifs of tennis racquet, horse shoes, fan and some embroidered flowers. The patches are stitched to coarse linen. There is a wide border of red plush velvet turned to the underside. There is no padding. The backing is red polished cotton.
1550 x 1435mm

Patchwork quilt in Grandmother's Flower Garden pattern consisting of groups of 7 rosettes and single rosettes with white filler hexagons and a border of rosettes alternating with 'bow tie' shapes of 5 patches in the middle of the quilt. Hand sewn in cotton dress and shirting materials , the colours mostly blues, pinks, reds, brown and white. The quilt top is covered in netting. There is no padding and the backing is cream cotton twill.
2270 x 2080mm

Silk and velvet frame quilt with centre patchwork block of squares and triangles with a top and bottom border of silk in Royal Stewart tartan. This rectangular centre frame is surrounded by plain and 'saw tooth' (triangles) borders. The outer border is dark grey silk embroidered in pastels in stem stitch in a meandering vine and leaf pattern. There is no padding or quilting. Backing originally of mustard wool material machine stitched along turned in edges. Dark red cotton is attached to original backing.
2015 x 1320mm

Unlined quilt. Central square of floral chintz with rectangular and chevron border making a larger frame that is set within another square-on-point frame edged with 2 toned red leaf pattererned chintz. This quilt is mainly pieced (squares, triangles, lozenges) but the hexagon rosettes are appliqued. Dress and furnishing cottons dating from the early 1800s. Raw edged, unfinished. All hand stitched.
2400 x 2400mm

Machine pieced cot quilt made from squares of material including tweed, wool, blanket and pyjama material. The squares are joined in rows with colours randomly placed. There is a pink satin edging. The backing is part of a pale pink blanket.
1150 x 900mm

Repeat block in wedding ring pattern. All cottons with cream background and mainly pale mauve and green dressmaking prints in wedding rings. Green border and cream calico backing. The padding is cotton. 1800 x 210mm.