Quilt No.478RR - Rita Ruchel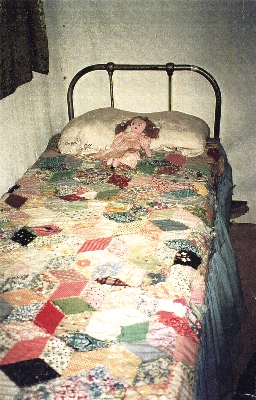 Description:
Quilt of cotton diamond shaped pieces feather stitched together with the pieces slightly overlapping. There is no padding and the backing is a light white cotton
1900 x 1060mm
History:
Made by Toni Nickolai in the Loxton district of S.A. during WW2 and now owned by her daughter Rita Ruchel. It was used on Rita's bed when she was a teenager and then on her own daughter's bed. It is now on loan to the Willewa Community Pioneer Forest Historical Group in Meringur Vic. [1998]
Story:
"During World War 2 it was often a struggle to make ends meet with restrictions through rationing of almost everything. There were many do-it-yourself projects. As our mother made a lot of our clothing (8 children) and her own furnishings there were many left over scraps of material. She had trained as a dressmaker before marriage. Droughts and low farming returns made it very necessary to 'make-do'. One of many Aussie battlers so all the otherwise useless pieces of material were made into something useful.
I too am a qualified dressmaker and follow the tradition of making quilts, toys etc from scraps." [Rita Ruchel 30.10.1998]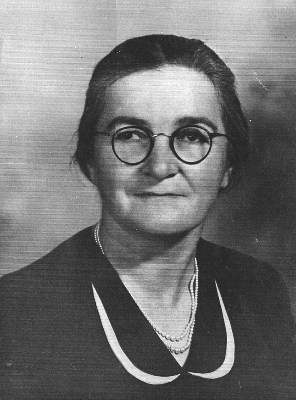 Related Quilts:

Patchwork quilt made from squares of wool, cotton, tweed, corduroy, tartan and stretch knit fabrics. Colours are mainly reds, greens, blues, pink and orange, mostly solid colours with some checks, stripes and florals. Padding is an open weave hessian material. Backing is a loosely woven cotton, pieced, buff coloured with a woven red and orange thread. Machine pieced, machine quilted in a large rectangle.
1601 x 915mm

Cotton quilt, machine sewn and hand quilted. Pattern similar to Double Irish Chain. The background is white and the small squares mainly patterned in pinks, blues, lilacs and greens. The backing is plain white cotton and the padding, which is lumpy, could be some type of cotton.
2057 x 1220mm

Patchwork quilt made of approx. 730 Suffolk Puffs, using mainly cotton materials in florals and plains. Each puff is 45mm diameter. The quilt centre has a square of 16 pink puffs outlined with a single row of blue puffs. Each corner of the quilt has a square of 9 puffs in a single colour. No padding. Quilt is edged and backed with a red and white tartan cotton.

Quilt made with a rectangular centre panel of cotton fabric printed with red poppies and black flowers in a japanese style. The panel is surrounded by a wide black satin border. The backing is of black cotton, covering a previous backing of green floral cotton fabric. The padding is feathers.
1700 x 1370mm

Cotton quilt of pieced hexagons and some diamonds made for a baby's basket. Colours are mainly blue and pink and two 'Punch and Judy's' are appliqued in the centre. There is no padding and the backing is a cotton floral in blues and greens.
760 x 660mm

Log cabin quilt, machine pieced and assembled. Some fabrics are pieces from family dresses, with mauve crepe used throughout. The pale side of each block is silk taffeta and other silk pieces. Padding is flannelette, and backing is cream muslin from a petticoat of the present owner, worn when she was bridesmaid to an aunt and uncle. 1000 x 630 mm.