Quilt No.479RG - Robyn Gallaway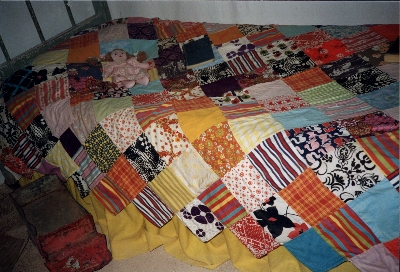 Description:
Machine made cotton quilt with 100mm cotton squares placed diagonally with peaks running around the edge. The colours are mainly autiumn tones and the patterns include checks, tartans, florals, geometric and plains. Materials were scraps left over from sewing projects such as children's clothes. There is a matching valance.
History:
The quilt was made by Robyn Gallaway in 1971 as a functional cover for the double bed when she and her husband and 2 children lived in Bendigo. It is now on loan to Meringur Pioneer Village where it is on display.
Related Quilts:

Double sided quilt. Side 1 has a central patch of small rectangles and borders of half square triangles. Seamed construction. Side 2 is crazy patch in wools and cottons on to a backing material. There is one round segmented circle in the centre. Machine pieced and quilted.
2050 x 1610mm

Patchwork quilt made for a child. All cotton with cotton padding. White blocks have embroidery depicting different nursery rhymes eg Mary, Mary, Quite Contrary ; Old Mother Goose. These blocks are separated by rectangular strips of teal cotton. The quilt is hand stitched and heavily quilted.
1677 x 1271mm

Crazy quilt of velvet upholstery fabrics, and cigar ribbons with surface embroidery. Patches are outlined in embroidery stitches, and one patch has 'Dec 12 1886' on it. There is no padding, and the backing is cotton. 1720 x 1580 mm.

Hand pieced log cabin quilt in silks, satins and velvets. There is a silk backing machined on, possiby a later addition. The quilt has over 5000 pieced.
1820 x 1680mm

Quilt of hand stitched cotton hexagon patches, the hexagons are in groups of 7 to form flowers, with white or cream 'paths'. The quilt centre has 19 flowers grouped within a single hexagon border of brown and red patches. In each corner of the quilt there are 6 flowers grouped around a larger flower within a single border of darker print hexagon patches. Backing is cream cotton, machine stitched to the top. There is no padding or quilting. Some fabric patches have deteriorated.

The suffolk puffs are mainly cotton in a wide variety of colours and plain and patterned materials. The puffs are small squares rather than the more usual circles. The backing is teal satin hand stitched to the top. There is a teal bow at one end. There is no padding.
1570 x 1100mm