Quilt No.885NTNW - National Trust of Australia (NSW)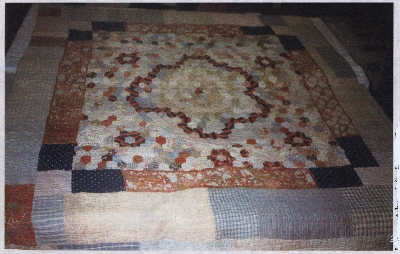 Description:
Utility quilt hand and machine sewn. The top has a centre frame of hand sewn hexagonal patches in a mix of dress materials and shirtings with four corner flowers and a roughly circular ring in red and blue stripe. The inner border has rectangular pieces in red/yellow/green/white hexagon printed material alternating with a blue/white spot. The outer border consists of large pieces of material, predominantly pink and blue stripes and checks. The backing is mainly red/white printed cotton. It is quilted all over in a diamond pattern. The padding is mainly flannel and has been made from...
History:
The maker is unknown. The quilt is believed to be Australian and made c.1900. It is now part of the National Trust (NSW) quilt collection.
Related Quilts:

Machine pieced cotton quilt, in random design of geometric pieces. Materials used are cotton sheeting, dress fabrics, broderie anglaise, and seersucker. There is no padding, and backing is white curtain lining.
1540 x 1150 mm.

Cotton quilt of plain and patterned hexagons, 6 joined to make a flower. The flowers are arranged in rows with single motifs filling the spaces. Hand sewn. The backing is heavy red cotton material. There is no padding.
2490 x 1803mm

Rectangular quilt of print and plain
cottons pieced in squares and rectangles within 2 frames, the inner border or frame of blue/green check material, then 2 rows of squares and rectangles, the outer frame of a grey and red geometric pattern and 2 rows of squares or rectangles. Backing of plain fabric. Machine stitched on a treadle machine.

Cotton quilt of pieced hexagons and some diamonds made for a baby's basket. Colours are mainly blue and pink and two 'Punch and Judy's' are appliqued in the centre. There is no padding and the backing is a cotton floral in blues and greens.
760 x 660mm

Crazy patchwork quilt made from silk and cotton fabrics, in patterns and plains, in bright colours. Patches are arranged around a central diamond shaped patch in yellow which is bordered with light blue. All seams are covered with featherstitch and herringbone stitch. Patches were stitched onto a calico backing. A recent calico backing ahs been added and dark blue binding attached to the edge. No padding.
1555 x 910mm

Single bed quilt hand pieced from silk hexagons using the English method. The border, backing and central rosette of hexagons are black. All other hexagons are a mixture of plain colours, stripes and florals. They are randomly placed. It is quilted in a diamond pattern. The padding is a thin cotton woven material.
1550 x 1330mm