Quilt No.974NGA - National Gallery of Australia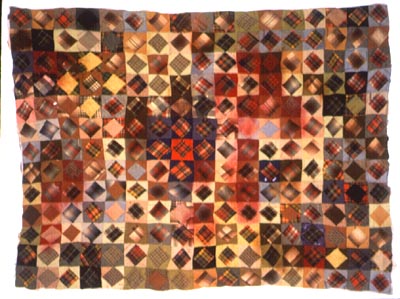 Owner:
National Gallery of Australia
Description:
" This well worn quilt is of pieced diamonds set into squares (221 make up the quilt). Thick woollen fabric has been used for the pieces. These are with plain dyed fabrics or tartans and checks. All work on the quilt is hand sewn. The quilt was lined with a fine blue cotton." [NGA] The quilt is not padded. 1835 x 1400mm
History:
"Mrs Alice Edith Farrer nee Gilbert (Australia 1885 - 1965) made this quilt at Warrnambool, where she lived with her family. Marion Gillespie-Jones, Alice Farrer's granddaughter, Australian Capital Territory, donated this quilt to the National Gallery of Australia in 1989." [NGA]
Related Quilts:

Hexagon quilt made from dressmaking scraps, nearly all woollen. The hexagons measure 150mm. It is hand stitched.
1170 x 1100mm

Double sided silk quilt. One side is paisley designs and the reverse plain silk . Machine pieced. There is a thin padding possibly sheeting.
2694 x 2287mm

Double sided quilt. One side is different shapes including rectangles in various sizes in wools and men's suiting material. It is hand pieced. The pther side is mainly cottons in florals of different patterns joined in strips of varying width and machine and hand pieced. There is a 25mm binding. The padding is an old blanket.

Snow Ball' cotton quilt made in the USA. Feed bag materials and dress materials. Hand pieced and hand quilted. Calico border and backing.
2058 x 2007mm

Double sided patchwork quilt/rug constructed from squares machined together in strips and then the strips joined. It is made in one piece and then doubled over. The materials are mainly wool, worsted, part cream machine made jumper, pink and blue mohair, blue and white spotted flannelette and cream blanket and all are scraps or from worn clothing.
1690 x 1370mm

Centre medallion of hexagons surrounded by blocks of tumbling blocks. Rows of triangles around the edge. Each corner has a star within a hexagon. Hand stitched with the traditional 20 stitches to the inch. There is a silk tassle in each corner. Materials include: silk, silk ribbon, taffeta, brocade, velvet, striped silk, faille. The backing is cream holland.
1580 x 1510mm