Quilt No.589VW - Val Wilkinson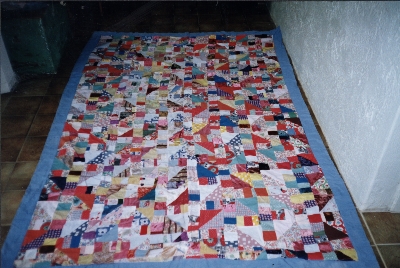 Description:
Scrap quilt made from a myriad of different materials, cottons, silk types velvets etc. Alternate rows have triangles and odd shaped pieces with in between rows of squares and rectangles in smaller pieces. It is completely machine pieced. There is no padding. The backing is blue slub rayon and is brought to the front to form a border.
2200 x 1520mm
History:
The quilt belonged to Daisy Brown of Murrumbeena Victoria, the grandmother of the present owner Val Wilkinson. Daisy died in 1974 aged 83. It is thought she bought the quilt at a church fete. The maker is unknown. The quilt is not used.
Related Quilts:

Hexagon quilt constructed over papers; all seams oversewn with featherstitch embroidery. Materials are vyella and clydella scraps from childhood dresses of the maker's first four children, augmented with scraps from a dressmaker and a book of samples. There is no padding; backing is plain, pale blue, brushed cotton.
2200 x 1720 mm.

Hand made cotton quilt in repeat block with appliqued Iris pattern. It is a kit quilt. "The Iris, Design "R" of the 'Mountain Mist Series' of Quilt Patterns" from The Stearns & Foster Company, Lockland, Cincinnati, Ohio. Copyright 1930. The backing is cotton and the filling also.
2439 x 1981mm

Patchwork quilt of pieced repeat blocks in cotton in white, blue, green, orange and red prints, plains and checks. Blocks are set between green sashes with white corner blocks. The pattern is 'Saw Tooth Star' or 'Jacob's Ladder' variation. Backing is of cotton, padding of cotton. Hand sewn and hand quilted.
2058 x 1296mm

Reversible quilt made of squares and rectangles of mostly wool suiting and some heavy cotton. The borders are of joined brocade. There is no padding.
1600 x 1220mm

Hexagon quilt with rosettes centred in an all over diamond pattern. It is hand pieced and hand quilted. All the materials are either linen or pure cotton. The quilt is padded with batting (American) and the backing is floral cotton.
2360 x 1800mm

Quilt with hexagons forming lozenge or honeycomb pattern. Predominantly greens and pinks in brocatelle (rayon brocade). All hand stitched. The backing is lime green rayon. The padding is probably dacron.
1800 x 1630mm