Quilt No.600PWH - The Pioneer Women's Hut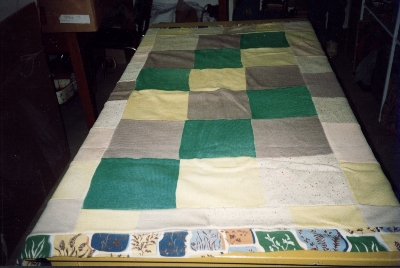 Description:
Machine pieced top of squares of part jumpers, most hand knitted. The padding is a blanket. The backing is an old curtain.
1735 x 1350mm
History:
Helen Walker made this quilt in Albury NSW in 1950. It was used continuously on various beds in the house from 1950 until 1985 when it was donated to The Pioneer Women's Hut. The pieces were cut from jumpers Helen knitted for herself and her children. It is now displayed occasionally at The Pioneer Women's Hut.
Related Quilts:

Patchwork quilt made of approx. 730 Suffolk Puffs, using mainly cotton materials in florals and plains. Each puff is 45mm diameter. The quilt centre has a square of 16 pink puffs outlined with a single row of blue puffs. Each corner of the quilt has a square of 9 puffs in a single colour. No padding. Quilt is edged and backed with a red and white tartan cotton.

" A wide range of cotton fabrics have been used to make this quilt in the traditional log cabin style. The strips of the log cabin are joined by rows being hand sewn onto a small square backing fabric, each square of strips has then been hand sewn together to form the quilt. The work is backed with a sateen printed fabric decorated with paisley design. A strip of the lining trims the edge of the front face of the quilt. The lining is attached with machine stitching. There are numerous tacking stitches that remain in the front face of the quilt. There are approx 9000 pieces in the quilt, most being only 5mm in width.
The quilt is of three layers because the strips of the log cabin are attached to a backing piece, and then the quilt is lined; however it is not padded." [NGA]

Cotton quilt made in the USA. The pattern is 'Nine Patch'. The quilt is machine pieced and hand quilted. The backing is cotton material possibly shirting. The padding is cotton.
1702 x 1702mm

The strip quilt is handsewn and quilted. Quilt top has 13 panels or strips of 3 different cotton lawn floral prints. Some fabrics are now wearing. Backing is of plain white cotton. The padding is wool. Quilting features a triple row cable design with flower motifs.
2100 x 1800mm

Handsewn cotton hexagons in a wide variety of patterns. Centre oval of hexagons with 2 outer rings. There is no padding and the backing is white cotton.
2490 x 2200mm

Reused parts of hand knitted woollen jumpers patched together. Wide crocheted edge from wool unravelled from jumpers retrieved from the tip.
1905 x 1525mm