Quilt No.600PWH - The Pioneer Women's Hut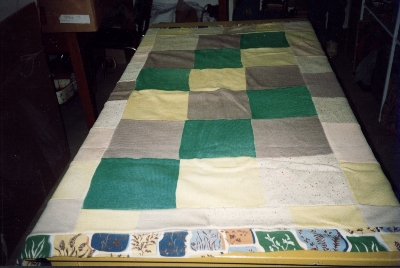 Description:
Machine pieced top of squares of part jumpers, most hand knitted. The padding is a blanket. The backing is an old curtain.
1735 x 1350mm
History:
Helen Walker made this quilt in Albury NSW in 1950. It was used continuously on various beds in the house from 1950 until 1985 when it was donated to The Pioneer Women's Hut. The pieces were cut from jumpers Helen knitted for herself and her children. It is now displayed occasionally at The Pioneer Women's Hut.
Related Quilts:

"A single bed cover made up of squares and recrangles of woollen fabric pieced together by a Vicker Sewing Machine from Myer Melbourne. The fabrics are either new (left over scraps) or used (unpicked woollen garments). The backing is an old (used) candlewick bedspread. There is no padding. It is faded and worn due to being used for other purposes later. There is a 66 cm high clown that ahs been appliqued on mainly by hand using blanket stitch. It is also made from scraps of fabric. The hands were cut from an old felt hat."
2400mm x 1660mm

Double sided quilt made from woollen suiting pieces some of which have hand worked eyelets. Many of the rectangles are irregular. Both sides use similar pieces but arranged in different patterns. There is no padding.
2160 x 1524mm

Hand pieced crazy quilt in a variety of plain coloured velvets. All seams are over embroidered in a variety of stitches. There is no padding and the backing is heavy black cotton. 1900 x 1630mm.

Log Cabin quilt featuring centre square and 3 outer borders. Evidence of later repairs and additions by machine and hand sewing. There is white paint on it. The log cabin pieces are sewn on to black netting. There is no padding and the backing is a centre piece of gold damask/sateen and green and black sateen borders.
1728 x 1321mm

Snow Ball' cotton quilt made in the USA. Feed bag materials and dress materials. Hand pieced and hand quilted. Calico border and backing.
2058 x 2007mm

Double sided quilt machine made from clothing scraps. Shapes are mainly rectangles in corduroy and wool blend. The padding is an old grey blanket.
1524 x 1372mm