Quilt No.830NTC - National Trust of Australia (TAS)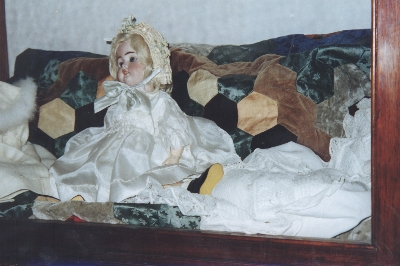 Description:
Quilt top of hexagonal patches in silk and velvet in colours of brown, black, soft green, maroon, light yellow and blue. Some materials self patterned. Blue backing papers can be seen at edges behind some patches.
History:
This quilt top was made by Mrs. M.A.Frost between 1920 and 1925 when she was 75 to 80 years old. It was donated to the National Trust of Australia (Tasmania) in 1982 by Mrs. M. Darcy.
Related Quilts:

Pieced squares, each square with a cross and 4 small squares in red. Crosses are in rows alternating 2 shades of blue and 2 of brown. Cream background. Now unlined but remnant blanket like material in corners. Originally had a cotton frill. Quilt was made from scraps of material used for making children's clothes.

Hand sewn quilt (possibly child's or table top) of crazy patchwork in silk, silk ribbon and cotton velvet. The top has surface decoration of embroidery on all seams, feather stitch and blanket stitch variations. Many of the crazy patches are also embroidered. The centre patch has a rooster embroidered in lame thread. Embroidered motifs are hearts, butterflies, guitar, cow, Little Red Riding Hood, horseshoes, crown, clover leaf. Stitches are feather, stem, satin and blanket. Embroidered initials are 'B', 'R', and 'S'. The backing is dark grey silk.
840 x 840mm

Double sided square quilt mainly in cottons. Side 1 has been made in 4 squares each consisting of different sized strips and rectangles. With side 2 there appears to have been 2 stages as if the quilt was extended perhaps to match side 1. It is also squares, rectangles and strips. Sparsley machine quilted. There is no binding but side 2 has been turned over to side 1 and stitched by machine.
1525 x 1525mm

Folded log cabin, foundation pieced. Machine constructed. Materials are cotton, wool, rayon, flannelette, silk and twill. There is no padding and the backing is cretonne. 2700 x 2100 mm

Double bed patchwork coverlet of pieced blocks in a pinwheel or dresden plate pattern of prints on a cream ground, each block with a 1 3/4" border or sash. Each pinwheel has 10 pieces, and the quilt is constructed 8 blocks by 6. Cotton fabrics are in florals, checks and stripes, in blues, greens browns, pinks, purple. The quilt was in poor repair and has been reduced in size. Conservation work has been done by the State Conservation Centre.
Backing or filling unknown.

Pieced quilt featuring log cabin and tumbling block patterns. It is handsewn and has some appliqued flowers.Materials are mainly velvet with a small amount of cotton. There is no padding and the backing is cotton flannelette.
1525 x 1220mm