Quilt No.888NTNW - National Trust of Australia (NSW)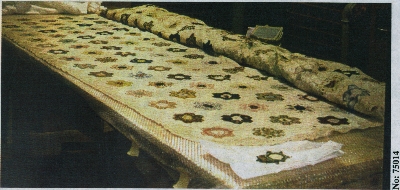 Description:
Hand sewn quilt comprising 263 rosettes of hexagons in chintz. 6 hexagons around a centre one form a rosette. Between these are plain off white hexagons. There is a mark on one corner on cream material, possibly a stamp. The crochet lace border is on three sides only.
2850 x 2720mm
History:
"The Macarthur quilt has been handed down through four generations of the family of Elizabeth Macarthur's daughter Mary Bowman until, with the death of the last Bowman owner, it was arranged that it had come to the National Trust of Australia. Its exact history has been lost, although it was attributed within the family to Mrs. Elizabeth Macarthuir, wife of John Macarthur and mistress of Elizabeth Farm." [NT NSW]
The quilt is now part of the collection of the National Trust (NSW).
Related Quilts:

Reversible cot quilt, hand pieced, in the log cabin pattern; the blocks measure 150mm square. The patches have been cut from plain and patterned dress, pyjama and men's shirt fabrics. Strong diagonals were created in the overall design through using light and dark colours, often a strong red, to divide the log cabin blocks in half diagonally. The back is made from rectangles of striped men's shirt fabrics in pastel blues, pinks and browns with a large 'flowe' in each corner, each pieced from six hexagon patches around a central seventh hexagon. There is no padding.
[PHM] 1720 x 1150mm

Rectangular quilt of print and plain
cottons pieced in squares and rectangles within 2 frames, the inner border or frame of blue/green check material, then 2 rows of squares and rectangles, the outer frame of a grey and red geometric pattern and 2 rows of squares or rectangles. Backing of plain fabric. Machine stitched on a treadle machine.

Log Cabin quilt made from a variety of cottons and silks. There is no padding and the backing is calico bags. 1500 x 1250 mm.

Patchwork quilt made of pieced blocks in the 'Shoofly' pattern, in white cotton and a red, white and blue geometric cotton print. Alternate squares are in the print. The border is made of same size squares in the print. No padding. The backing is a sheet. Hand sewn.
1829 x 1829mm

Patchwork quilt in Grandmother's Flower Garden pattern consisting of groups of 7 rosettes and single rosettes with white filler hexagons and a border of rosettes alternating with 'bow tie' shapes of 5 patches in the middle of the quilt. Hand sewn in cotton dress and shirting materials , the colours mostly blues, pinks, reds, brown and white. The quilt top is covered in netting. There is no padding and the backing is cream cotton twill.
2270 x 2080mm

Crazy patchwork quilt made from silk and cotton fabrics, in patterns and plains, in bright colours. Patches are arranged around a central diamond shaped patch in yellow which is bordered with light blue. All seams are covered with featherstitch and herringbone stitch. Patches were stitched onto a calico backing. A recent calico backing ahs been added and dark blue binding attached to the edge. No padding.
1555 x 910mm