Quilt No.1099ND - Nancy Dunlap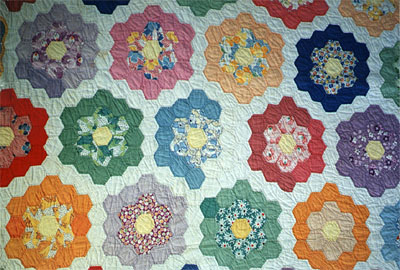 Description:
Grandmother's flower garden pattern. All cottons with plain centres to 'flowers' then row of prints and outer row of plains. One hexagon flower has been repaired. Scalloped edges bound with yellow. Hand quilting around the hexagons. The backing is cream cotton and the padding is thin cotton. 2140 x 1780mm.
History:
The quilt was made by Margaret Doran in Illinois USA in the 1930s. It then passed to her grand-daughter Rosanne Wold and is now owned by Nancy Dunlap whose husband Keith is the great grandson of the maker.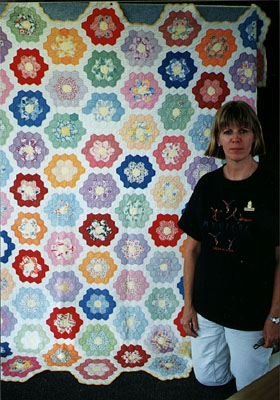 Related Quilts:

Hexagonal log cabin quilt. Hexagons constructed of strips with half hexagon dark and half light. These hexagons are then joined to form diagonal light and dark stripes. Machine and hand sewn. Materials are wools, printed cottons, velvets, corduroys, rayons, flannelettes, brocades, pique and taffetas. The backing is a single piece of brocatelle (rayon brocade). There is probably a thin layer of padding.
1400 x 1200mm

Frame quilt or coverlet with centre frame surrounded by floral printed panels. The centre is cotton chintz block printed material in madder colours. It is hand quilted.
2700 x 2700mm

Quilt in traditional design called 'Seven Sisters'. Seven stars, each of six diamonds are set against a cream background, surrounded by bright pink triangles. Hand pieced and hand quilted. Padding is cotton, and backing is cream calico. 2100 x 1850 mm.

Quilt top in postage stamp pattern typical of military quilts. 5 x 5 blocks each 280 x 280mm. Colours are predominantly red, black and cream. Thought to have been made using uniform material from the Crimean war
1350 x 1350mm

Patchwork quilt of hexagon patches (3.5cm sides approx), handsewn, in cotton fabrics in sprig prints, stripes, checks, florals and plains. Colours are pre-aniline dyes, in lavender, green, red, beige and purple. Centre of quilt is pastel colours with a central patch embroidered in red: 'Elsey Rowbotham her work May 1 1869'. Quilt has a wide border of squares and triangles.Padding is thin cotton. Backing is off white calico. Quilted in parallel lines.
2693 x 2490mm

Hand stitched unfinished crazy quilt with patches placed around a centre hexagon pieced in log cabin type strips. Materials are mainly silks and satins and pieces are mounted on grey cotton material. Seams are overstitched in herringbone stitch. 1520 x 760mm