Quilt No.467PSA - Pioneer Settlement Authority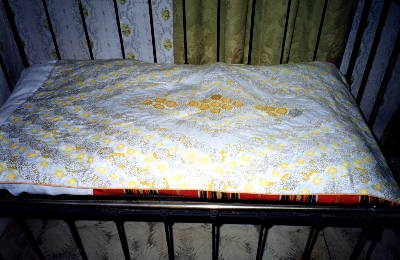 Description:
Cot quilt of cotton hexagons. There is a central diamond of hexagons and then a repeat diamond motif radiating to the edge. Each hexagon is 40mm. The backing is sheeting or similar and the padding is dacron type.
1200 x 700mm
History:
This cot quilt was made specifically for the children's room in Towaninnie homestead at the Pioneer Settlement, Swan Hill. It is believed to have been made by the local C.W.A. group in the 1960s. It is displayed on a cot.
Related Quilts:

This Adelaide Chronicle wildflower quilt has alternating squares of green and fawn headcloth embroidered with Australian wildflowers on the fawn squares and stylised floral motifs on the green squares. It is bordered and backed with the same green material. It is padded.
2350 x 1530mm

Crazy patchwork quilt in a variety of cotton materials. There is no padding. The backing is old flour bags.
2000 x 2000mm

Grandmother's Flower Garden quilt. Hexagons are from cotton and polyester material mostly from 'Reverse Garbage' Melbourne. Hand pieced by Rita Fiddian, the owner. Hand quilted. The padding is wool and the backing cotton.
3049 x 2109mm

Patchwork quilt made up of 100mm multi coloured squares in a variety of materials including cottons, synthetics, lurex, plain and printed. Each square has dacron padding and is then joined in strips and the strips joined. All hand sewn. The backing is blue synthetic whole cloth 60mm of which is returned to the front to form a border.
1500 x 1200mm

Patchwork quilt made from cotton hexagon patches in the 'grandmother's Flower Garden' pattern, in bright prints and plains, with cream 'paths' made from dress material. Padding is flannel sheeting, and backing is the same cream material as the 'paths'. The centre of the 'flower' patches are autographed with friends' names and dates, as are some 'petals' and cream patches, in black ink.
1550 x 1400mm

Machine constructed log cabin quilt using a wide variety of strips of used clothing including cottons, men's suitings and wools. Each square is about 250mm and arranged in the 'light and dark of the fire' variation of log cabin. There is no padding. The backing is brown twill with an orange pattern and is probably a replacement backing.
2180 x 1710mm