Quilt No.57SC - Sallie Cross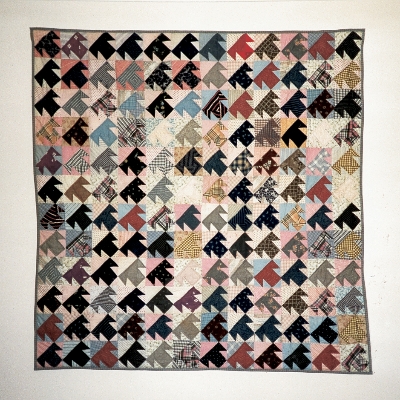 Description:
Patchwork quilt of pieced repeat blocks in 'T' pattern,mainly cottons. Quilt is constructed with 12 blocks across and 12 blocks down. Some fabrices have been reused from clothing, some blocks have patches which have been pieced from scraps to make enough fabric for the pattern. Padding is' pellon', quilt is backed, bound and quilted.
1600 x 1500mm
History:
Pieced quilt top bougnt at auction in London, Ontario, Canada in 1987 by the owner. Quilt top finished, padding, backing, quilting and binding, by owner's mother.
Story:
"I purchased this quilt unfinished at a deceased estate auction sale in London, Ontario, Canada in sept 1987 whilst holidaying there. I gave it to my mother who completed it. She completed it with pellon wadding, backing and quilted it. The fabric is small prints, checks, dull colours, no greens or bright colours. Some fabrics appear 'pre-loved', I.e. used in men's shirts, aprons etc, Some blocks contain fabric which has been stitched together to obtain maximum use of all scraps. Some 'Ts' are made of similar coloured fabrics, others are constructed of the same fabric. My mother feels this is an early 20th century piece."
[It is not known who pieced the top.] "At the time I was not interested in patchwork and quilting myself - now I do regret not getting more information on the day of purchase."
"At the auction sale the quilt was stored in a rusty old tin trunk. The auctioneer was having trouble getting a bid, when he opened the lid and pulled out the quilt I immediately said $5.00 and it was mine - not one bid against me."
[Sallie Cross 29.8.96]
Related Quilts:

Repeat block in wedding ring pattern. All cottons with cream background and mainly pale mauve and green dressmaking prints in wedding rings. Green border and cream calico backing. The padding is cotton. 1800 x 210mm.

Handsewn quilt of hexagon patches in cotton prints in 'Grandmother's Flower Garden' pattern. Each flower consists of double rows of print hexagons around a yellow centre and these are joined by 'paths' in plain green and white cotton. Backing is green cotton and there is a wool padding. There is outline quilting around all green and white hexagons and centre and first row of hexagons in flowers.
1885 x 1750mm

Patchwork quilt of multi coloured silks and brocades. Crazy patchwork borders, mainly rectangular fabrics pieced together in diagonal patterns, radiating from a central frame embroidered with flowers. Many pieces are extensively embroidered in a great variety of stitches and motifs; butterflies, sunflowers, cats, daffodils, crown, pawn broker's symbol, 'money to lend', 'good night', the initials of family members and 'mater 1890'. The quilt has a deep border of maroon sateen. There is no padding visible but it is possibly a blanket. The backing is green/gold silk with a self stripe with red cotton damask showing underneath, possibly an earlier backing.
2165 x 2165mm

9 large blocks of crazy patchwork in silks and velvets. The blocks are divided by strips of deep ruby coloured silk. There is a wide ruby border with peaks to which is attached cream lace. The backing is beige silk. The main blocks are outlined with feather stitch in gold thread and many individual patches are outlined in fancy stitches and have embroidered motifs some of which are Australian eg centre patch has Sturt's Desert Pea flowers, parrots, wattle. There are also English flowers, Japanese motifs, flags, domestic objects and Marianne's initials. Embroidery is in a variety of threads including chenille.
2250 x 2180mm

Handmade quilt in off centre log cabin pattern. Pieces are floral furnishing and dress fabrics, in twenty blocks. There is no padding, and backing is of bright floral cotton. 1900 x 1500 mm.

Hand pieced frame quilt with centre frame of hexagons and radiating borders of cotton and chintz. There is a heart at each of the 4 corners on the second border. It is hand quilted. There is no padding.
1900 x 1900mm