Quilt No.969NGA - National Gallery of Australia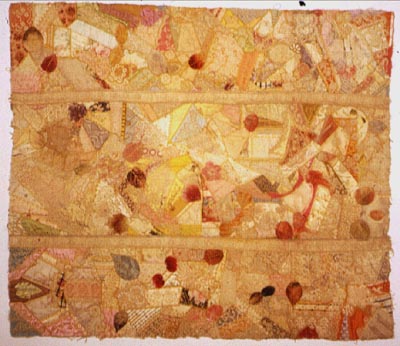 Owner:
National Gallery of Australia
Description:
" This is an unfinished section/piece of crazy quilting. Ribbons divide the piece horizontally into three sections; between these are bands of pastel fabrics and embroidery in the crazy quilt tradition. The fabrics and threads employed are very luxurious: laces, satin ribbons and silk velvets. The embroidery is very fine, employing a wide variety of stitches and threads. This patchwork piece is padded with cotton wadding and backed with tarlatan." [NGA] 1170 x 1020mm
History:
Margaret Weir made the quilt around 1910. Margaret's niece, Mrs. Alison Brown, Australian Capital Territory, donated the quilt to the National Gallery of Australia in 1982.
Story:
Margaret Brown Weir (Australia 1856-1934) was born at Steiglitz, Victoria and died in Royal Park, Melbourne.
Related Quilts:

Patchwork quilt made of rectangles of woollen fabrics from dressmaking projects. Pieces have been stitched together in no particular order. Colours are predominantly dark red and light grey, with some green, pink and blue. Fabrics are plain, checks and weaves. No padding or quilring. Backing is yellow curtain fabric.
2200 x 1100mm

Unfinished crazy patchwork quilt. Materials are mainly silk, velvet, woven ribbons, woven brocades. Hand embroidery using many different stitches also machine embroidery eg frog. Some individual patches have names, initials, dates probably relating to family members. There are also place names several of which may refer to Australia. Apart from the embroidery on individual patches there are overlaid a number of floral displays across parts of the quilt. Backing is flannelette with selvedges of blue and pink. 1300 x 1300mm

Repeat block in Ohio star pattern. Wide border of triangles, pieced blocks and stripes. Stars are in greens, pinks, mauves (all now very faded) and white. Wreath quilting in squares with smaller wreath quilting in triangles. There is padding and the backing is a poly/cotton sheet. 2500 x 2450mm

Patchwork quilt or table covering dark and light silks in bright colours, pieced from diamond shapes into stars with black patches between the stars. Plain and patterned silks are used for the stars. Border is made from a single row of Tumbling Blocks in plain silks with an edging on each side of truncated black diamonds on blue on the inside, orange on the outer edge. There is a star pieced of diamonds in each corner. Hand sewn.
1830 x 1800mm

Wool patches in large Tumbling Block pattern. Plain colours, blues, orange, gree, red. Seams are over embroidered with silk thread in herringbone stitch. Backing is 'Molleton', red with yellow pansy design.
2490 x 2236mm

Double sided square quilt. One side is a crocheted rug. The centre of this is 4 triangles joined and from this coloured bands in crochet radiate out to the border. The other side is randomly pieced scraps of mainly woollen material in checks, plains and tartans. Machine construction.
1600 x 1600mm