Buninyong and District Historical Society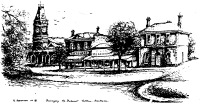 Buninyong is one of Victoria;s oldest communities, pre-dating gold discovery in 1851. Many historic buildings remain in this heritage township, and the historical society maintains three of these - the 1858 former courthouse, the 1884 courthouse (now the History Centre) and the 1860 Old Library. The Society collects photographs, maps and genealogical information.
Address:
Learmonth Street, Buninyong, VIC
Hours:
First Sunday of every month
Facilities:
Library, research, guided tours, publications for sale, displays, lectures, parking, toilets
Collection:
Paper based collection - 3000 index cards, 1000 photographs, 50 folders; also maps, letters on family history and indexes of rate cards.