Talbot Arts and Historical Museum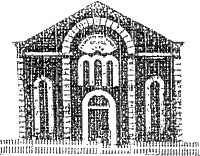 The Museum opened in 1984 in the former Primitive Church. The Church is an 1870 blustone building which is part of the historic government precinct of the town. It contains many historic buildings which feature in photo displays in the museum. The museum has a collection of documents, photographs, school, cemetery and Amherst hospital records and artefacts presenting the history of the pioneers and early settlers of the district.
Hours:
1-4pm Sun, or by appointment
Admission:
Adults $2, Children under 12 free.
Facilities:
Toilets, research facilities, community involvement, newsletter
Collection:
The collection includes over 600 photographs, a large collection of historic records relating to schools, local government, local families, hospitals and a wide range of items of historical interest which give an insight into the way people lived and worked in a gold town.
Items
Butter Churn