Gippsland Regional Maritime Museum
Set in the historic seaside town of Port Albert established in 1841 the Gippsland Regional Maritime Museum is housed in the former Bank of Victoria built in 1862 to receive gold from Gippsland's goldfields. From the moment you step inside the museum you will appreciate the excellent exhibits on display. Some give vivid insights into the early history of Port Albert as the gateway to Gippsland, an important port for the squatting era and for supporting the gold rushes of the 1850s and 60s. Others trace the ongoing history of the area where fishing in Bass Strait and the infrastructure that supported it was paramount. We are family friendly with items of interest for all ages and several interactive push-button displays to ensure a visit is memorable.
Address:
Tarraville Road, Port Albert, VIC
Hours:
Mid September - May 31st Daily 10.30am - 4pm. Winter opening hours, Saturdays and Sundays only 10.30 - 4pm, or by appointment. Buses by appointment.
Admission:
Adults $4, children $1, concession-student $3.
Facilities:
Toilets (visitors toilets, not suitable for large numbers), car and bus parking, picnic area, sales outlet, research facilities, information brochure, research library
Collection:
The collection comprises approximately one thousand objects. Included are items recovered from the "Clonmel", the oldest located paddle steamer wreck located in Australia, other local shipwreck relics, a comprehensive and almost complete set of equipment used in the breeches buoy method of lifesaving, navigation and lighthouse memorabilia, the only display in Australia of the former world wide Omega global positioning equipment, fishing exhibits, boat building tools, a comprehensive shell collection and displays on the oil and gas industry in Bass Strait.
Items
Anchor
Admiralty Pattern Anchor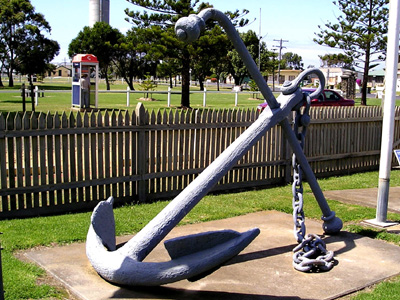 Description:
One of two similar anchors recovered off the Port Albert wharf in 1992. Believed to be a kedge anchor used by early shipping.
Registered under Heritage Victoria Amnesty Collection. Catalogue number 850.00007.
Leading Light
Acetylene gas operated navigation light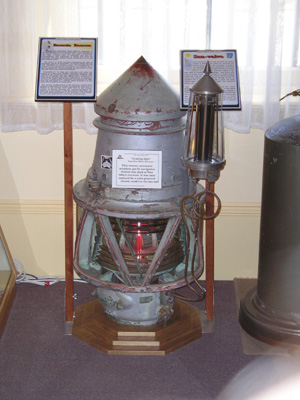 Creator:
Dalen System. Gasaccumulator. Stockholm. Sweden.
Description:
Leading light from the Port Albert Entrance.
The Dalen Gasaccumulator acetylene light is complete with its sun-valve. Gustav Dalen of Sweden won a Nobel Prize in 1912 for inventing the sun-valve that allowed for the automatic switching on and off of the light.
Omega Relay
Solenoid Relay switch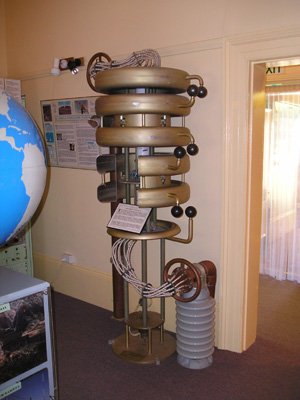 Creator:
Ross Engineering Corporation. California. U.S.A.
Description:
Omega aerial solenoid tuning switch .One of five used in the Omega Navigation station at Darriman Victoria to switch radio wave tuning coils in and out.
The Omega navigation station at Darriman was one of eight Omega navigation stations strategically placed around the world. Each station emitted its own pattern of low frequency radio waves. Ships and aircraft could obtain a reading of their latitude and longitude from intersection wave patterns.
The worldwide Omega system operated from 1982 to 1997 when it became redundant due to greater accuracy being obtained from satellite navigation systems.
Shell Display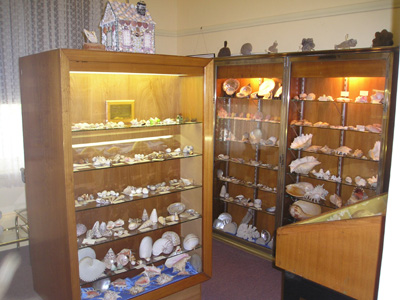 Creator:
Mr Jack Urquhart
Description:
A collection of 188 shells, named with scientific and common names. Shells are primarily Australian.
Mr Urquhart was a professional fisherman operating from Port Albert. He was one of the pioneers of shark fishing from Port Albert into Bass Strait in the 1930s in his 28-foot boat the "Ida".
Boat
Cliffy Island lighthouse workboat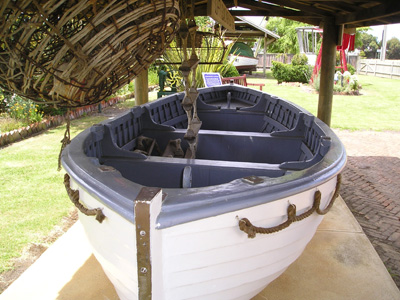 Description:
Due to the nature of Cliffy Island there was no landing on the island so the workboat had to be lowered by a gantry over the side of the island to receive mail and supplies that arrived fortnightly by boat from Port Albert.
A double-ended clinker boat used between 1940 and the early 1970s before helicopters operating from Tyabb airfield, Victoria took over the deliveries. The lighthouse is now automated.
The E Brosche and his son built a number of boats at Port Albert including several large wooden shark-fishing boats.