Port Welshpool and District Maritime Museum
Our Museum consists of a house and various out buildings located on two town blocks in Port Welshpool. The collection is spread over the whole area. Our strong point is the early fishing industry in Corner Inlet, including a daily diary kept by the Smith family from 1887-1958. Housed in Welshpool's first residence (1881), the Museum contains a local history collection that includes natural history objects, fishing and maritime artefacts. Original display cases house a magnificent shell collection that dates from the 1800s.
Address:
Crn Turnbull & Townsend Streets, Port Welshpool, VIC
Hours:
10.30am-4.30pm Weekends and Public Holidays. Or by appointment.
Admission:
Adults $3, students 50c, families $5, pensioners $1
Facilities:
Access for the disabled, toilets also for the disabled, car and bus parking, picnic area, craft sales, guided tours, information brochure, displays for groups.
Collection:
Our collection is the contents of the house which is now the museum, also includes local donations, the house was built and remained in the same family; shell collection, early fishing artefacts, family memorabilia, farming implements etc.
Items
Shell Collection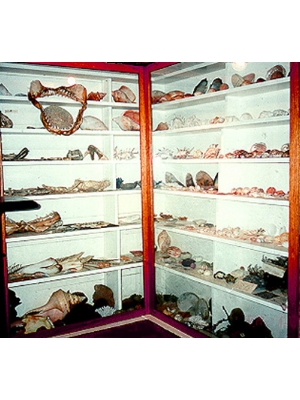 Description:
Display cases of various shells and fish (mounted) caught in Corner Inlet, Victoria.
Show cases were originally shown in McEwans store, Melbourne in 1922, contents are still originally shown.
Fishing Diarys
Smiths Diarys
Creator:
WBM Smith and his son Arnie Smith
Description:
Daily records of weather conditions and fishing catches from Corner Inlet Port Welshpool
Diary's also contain many snipets of local happenings e.g. storms, amounts of fish catches, funerals, drafts etc. may crude drawings attached to pages eg. Funerals were illustrated with icons of coffins.
Fishing Boat
Janet Iles
Creator:
Built by White Bros Shipyards in Williamstown, Victoria
Description:
A larger than normal boat for its era. Purpose built wooden hull for fishing trips and commercial fishing.
We have just constructed a shed over the boat which will assist in preservation on the "Janet Iles".
Photographs
Description:
Photos cover all Historical events in the district.
Subjects covered include; local horse tramway, tin-mine on Wilsons promontary, football teams, school photographs, local fishermen, community members, early oil industry, shipping, promontary views.
Household Items
Various
Description:
cabinets, sideboards, glass plates, vases, crockery plates, tea pots, statues, dishes.
All items in the collection were donated with the house that became our museum in 1972.